When we begin our days, I try to be diligent to set aside time to spend with my younger ones first. It helps to give them that focus before diving in to work with the older ones. After a bit of reading and chatting, my little ones are content to sit and play (somewhat quietly) while I head to the table.
It almost never fails that the little ones eventually work their way to the table and want to join in the action. While I could lead them back to a different spot to play, I love that they want to be a part of what is happening at the table. The key is to have something to keep those hands busy! Hands that are not occupied might find a Sharpie and a workbook and enhance the pages with artwork.
Last week I put together a quick, inexpensive and easy activity for my little ones. I had a bag of buttons that were various shapes, sizes and colors and they were perfect for a sorting activity. From our art bucket stash I cut some foam sheets into about 4 x 6 inches that matched the colors of our buttons.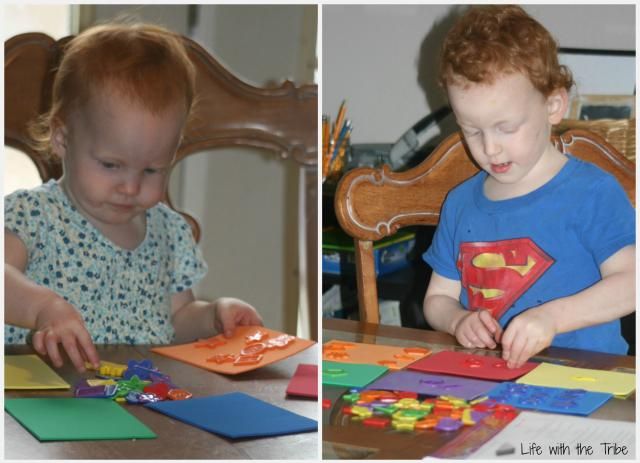 When I gave the buttons and foam sheets to Sam (4) and Martha (2), they knew exactly what to do. It was so interesting to see how they approached the task differently. Martha chose one foam sheet and matched the buttons to that one color before moving on to the next.
Sam spread all his foam sheets out and sorted the buttons by color as he grabbed them. After he had them all sorted, he dumped the buttons back into a pile. The next time he started to sort them, he only chose one or two buttons of each color to place on the foam sheets. However, as he selected buttons he was telling a story. That child has quite the imagination!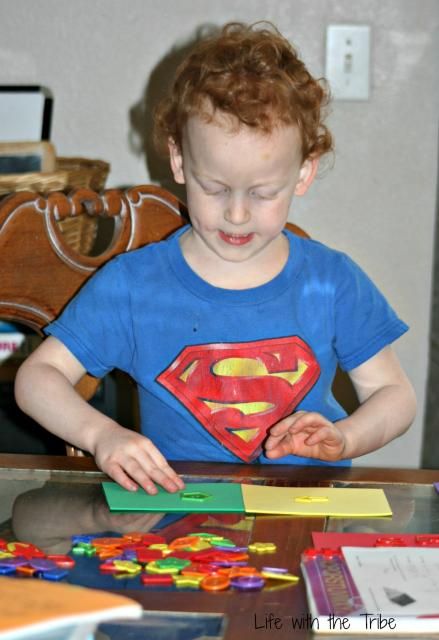 I didn't manage to snap a picture but some of the older kiddos were caught playing with the buttons a bit later. While waiting on me to correct math, two kiddos were creating quite an elaborate scene with the buttons and had quite the story going.
What activities are your little ones enjoying that keep their hands busy?