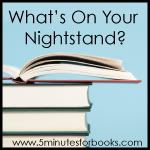 Is it terrible that I am having a hard time remembering what I have read? Did I read? Sadly, I haven't been reading as much as I would like. It seems that my days are busy with a new little one and managing our busy homeschool days.
Since I missed a few Nightstand posts, let's just see what I have been reading this summer:
*Harry Potter and the Sorcerer's Stone by J K Rowling. I can honestly say this is one book I had not planned to read. However, my fifteen year old daughter asked why we didn't read it when we enjoyed other fantasy books. Excellent question. I was honest with her and said that I really hadn't looked into Harry Potter so I couldn't answer her question. I grabbed Harry Potter from the library and read it. Then I passed it along to my daughter.
*One Blood: The Biblical Answer to Racism – Ken Ham, Don Batten, and Cari Wieland  This was a selection that my daughter will be reading over the coming weeks. I read it during afternoon nursing sessions a few weeks ago. It was a relatively short but interesting read!
I can't believe that is all I have read! Tragic!
In Progress:
*The Bronte' Sisters: The Brief Lives of Charlotte, Emily and Ann – Catherine Reef
*The Vision of the Anointed: Self Congratulation as a Basis for Social Policy – Thomas Sowell
*School Education – Volume 3 of Charlotte Mason Homeschool Series – Charlotte Mason
On My To Read Pile:
*The Narnian: The Life and Imagination of C. S. Lewis – Alan Jacobs
What have you been reading this summer?