"a, be, ce, che, de, e, efe, ge….." or perhaps, "If you are feliz and you know it, clap your hands"….these are just two songs that are being sung by my little ones (and an older one or two). Classical Academic Press sent us a wonderful product, Song School Spanish designed for grades K-3.  We have used a few products by Classical Academic Press in the past and I couldn't wait to introduce my young learners to Song School Spanish!
Song School Spanish is a fun, energetic and interactive curriculum that will introduce your young student to Spanish and give them a vocabulary of over 100 Spanish words. We have been using three Song School Spanish items: Song School Spanish Teacher Guide, the Song School Spanish Student book and the Song CD that comes with the student text.  These books cover 30 weeks of lessons (plus review lessons).  Lessons cover topics such as Greeting Words, Family, The Body, Time to Eat, Manners and more! Also included at the beginning of the book is a pronunciation guide, scheduling tips and more.
Song School Spanish Student text provides opportunities for the child to see the Spanish words as they are singing and saying them.  While this is designed to be an introductory course, it is very thorough in its simple instruction. Small bits of grammar are included such as how Spanish is written with upside-down exclamation points or question marks. When to use "el" or "la", stories like The Three Little Pigs with Spanish vocabulary and matching pictures to the Spanish word are examples of more learning.  The writing required is not too strenuous. It provides just enough practice for copying or writing the language without being overwhelming.
Review lessons are included in the Song School Spanish student book. The student reviews the vocabulary learned, reviews the songs and are encouraged to put on a play showing what they know.
The text and pictures are in black and white and not "busy" at all. For the child who can easily be distracted, this simple layout is great. At the back of the book are cut outs to be used in various lessons. Hands on activities like making puppets really help to reinforce what they are hearing, saying, singing and writing.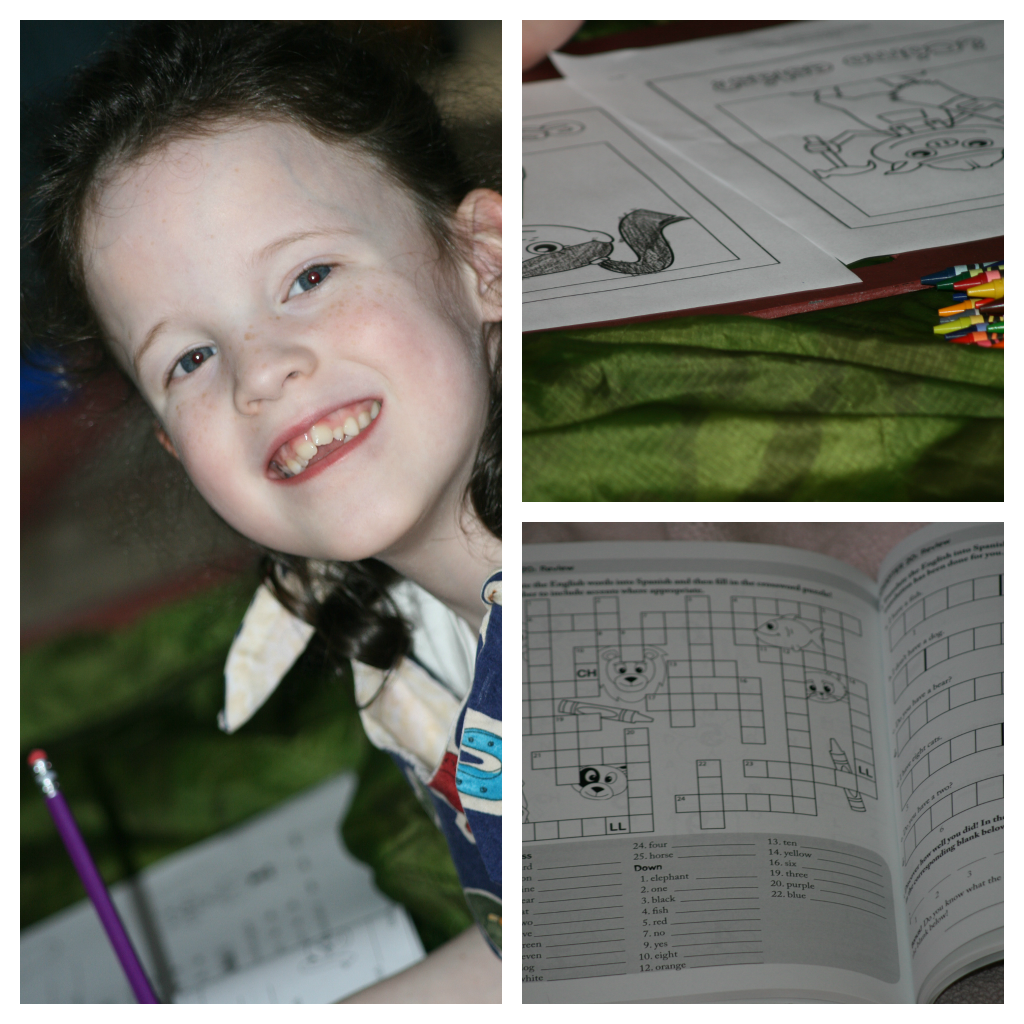 Included with the student book is a Song CD containing 42 songs that help build vocabulary. Songs use both English and Spanish to help build a connection between the words.  Some of the music utilizes songs your children already know well like If You are Happy and You Know It, and incorporate Spanish into it (If You are Feliz and You Know It). The CD can quickly build that vocabulary! I find myself singing the songs!
Finally we have the Song School Spanish Teacher's Guide. The teacher guide includes, at a smaller scale, the student pages with answers. This allows you to easily guide your student through his activities and songs. At the back of the book, there are extra review pages for each lesson. While they are great for extra practice, my daughter just enjoyed the pages for  the extra fun.
How Did Song School Spanish Work for Us?
Once I have my older students busy at independent work, I grab Hannah, 7, and Sarah, 5, and we find a spot on the floor and dive into Spanish.  Sometimes Sam, 3, will join in for a bit but I let his interest lead his participation. It is recommended to do 3 to 4 short lessons a week and that works out well for us.  We start our time by listening to the song CD. The songs are fun and we love clapping and singing along. The Alphabet Chant gets practiced often; it is quite interesting with our southern drawls.
Once we sing the songs and go over the chapter lesson, Hannah does a bit of the workbook. I don't require Sarah to do any workbook writing but she does enjoy coloring while listening to the lesson. We generally spend about 15-20 min singing, talking, writing and coloring. I really like that, because of the workbook, Hannah is learning to read the Spanish. We are enjoying our Song School Spanish time very much! Both Hannah and Sarah ask me when we are going to do Spanish during the week. This fact speaks volumes about Song School Spanish.
Pricing:
Song School Spanish Student Book w/ audio CD: $24.95
Song School Spanish Teacher Book: $24.95
Samples are available! It is so helpful to be able to "see" a product. Make sure to take a few moments and take a peek: Song School Spanish Student Text, Song School Spanish Teacher's Guide, and samples of the songs are in a zip file you can download.
Other Resources and Helps:
Classical Academic Press has other items to help or enhance your young student's time with Spanish. You can purchase Spanish Amigo Match ($26.95) which are vocabulary cards that can be used to play games for retention and review. (Amigo Match was not a reviewed item.)
Free resources:
Helpful for me is the Spanish Pronunciation Files that can be downloaded from Classical Academic Press. It can be challenging at times to say a word just right so to be able to hear it over and over is lovely.
Coloring pages for each chapter of Song School Spanish are available for free. You just download and print as many copies as you need. (A favorite of Sarah's.)  At www.HeadventureLand.com, students can play an online game called FlashDash that reviews vocabulary.
There are extras songs available for download as well. For those parents who may need clarification or help, they can "Ask the Magister" at ClassicalAcademicPress.com and get help from Spanish teachers.
So many great things from Classical Academic Press!
Other members of the Schoolhouse Review Crew had Song School Spanish or Bible curricula on the Old Testament. Take a peek at how others used these products in their homes!

**Disclaimer: As a member of TOS Review Crew, I received a complimentary copy of these products. No compensation was made. The thoughts/opinions expressed in this post are my own.