Focused vocabulary studies have not been a major emphasis in our homeschool. I prefer to take a more relaxed, informal approach for developing a rich vocabulary. In the younger years, we also are very relaxed with science. With this relaxed approach, resources from Lone Star Learning would not have been on my "want to purchase list."  However, in the past few weeks, Lone Star Learning Science Vocabulary Picture Cards (Set 1) have become a fun part of our day.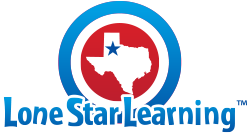 Long Star Learning is a company that provides resources for math, science and reading. Products range from  Science Vocabulary Picture Cards to Digital Target Learning. Grades K – 8th can find resources to enhance and build skills in these areas of learning.  Not only do they provide a wide range of quality products, 100% of their products are designed and printed in the US.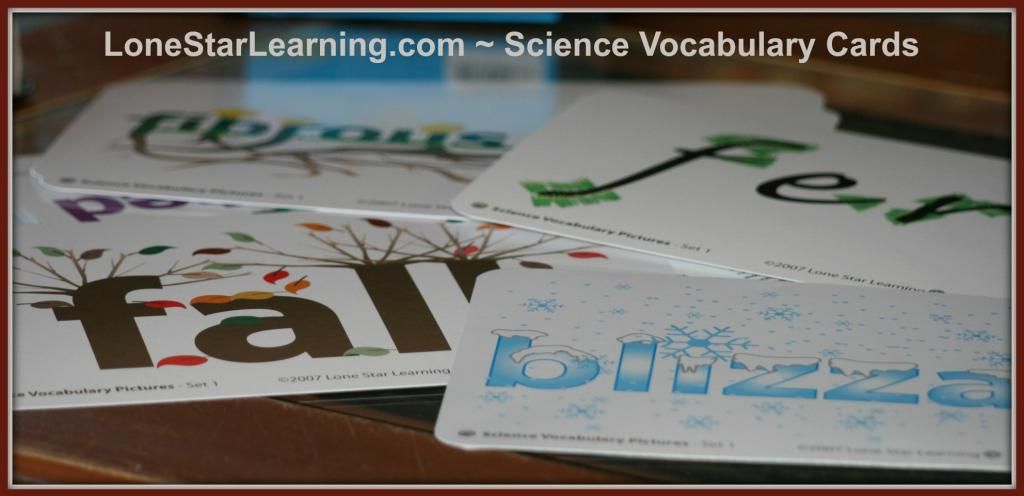 The Science Vocabulary Cards (Set 1) are not set up for a certain grade level. Lists are provided to help you decide which set would be best for your students. The sets can be used for grades K – middle school.  The cards are 5.8″ x 8.5″  and provide a great visual that aids in retention of the words.  As you can see, the cards are illustrated in a manner to help with association of a picture to a definition.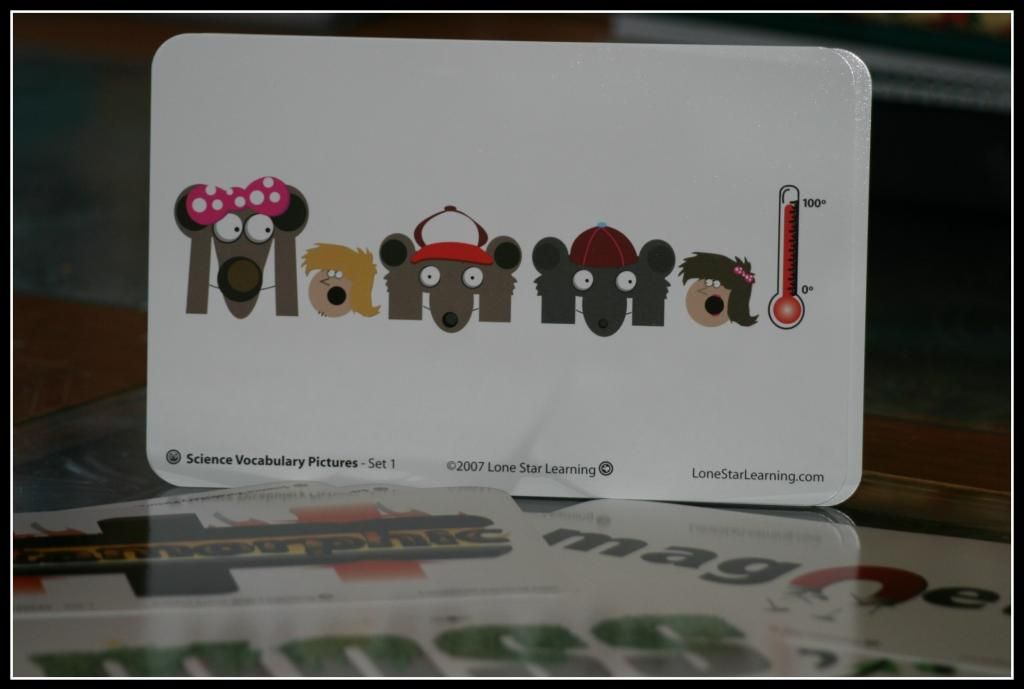 These cards do not include the definition (a sheet listing the definitions is included) and are coated on the illustrated side. This makes the cards durable for daily use with multiple students. The cards are colorful with fun illustrations that quickly catch your child's attention.
How The Science Vocabulary Picture Cards Worked For Us:
There are a variety of ways that you could incorporate the cards into your learning routine.  My goal was to focus mainly on my fourth and fifth graders; allowing my first grader to listen.  We start our school day with reading Scripture and memory work.  Since everyone is already gathered together, it seemed the perfect time to discuss a few cards.
My plan was simple.  I introduced a card, we discussed the pictures and they defined or tried to define it based on previous knowledge and the card picture.  Then I'd give the definition and we would discuss real life examples or experiences associated with the word. After a few days, I allowed the children to select a word we had covered and they created their own picture card with the definition on the back.  They are slowly building their own vocabulary box.
(In the above pictures, you see the tops of houses and trees surrounded by snow and the black swirls represent high winds.)
I was pleasantly surprised at how much the children enjoyed the vocabulary cards. No moaning, groaning or complaining. They asked to do  a new word every day!  Each day we reviewed words we had already covered and then added in a new one. Some days, I would hold the cards out and they had to "draw a card" and that would be the one they had to illustrate that day. This helped prevent any attempts to avoid a word they didn't want.
Although Lone Star's Science Vocabulary Picture Cards would not have been part of our normal studies, I have been thrilled with them!  Almost effortlessly, my children are remembering words and definitions. They are able to see some of these in every day life and recall the cards.   From conifers to deciduous trees in our backyard to our family being like a conglomerate, these cards have inspired learning.
The Science Vocabulary Picture Cards that are designed for K-8, in the end, worked for all my students. My 7 year old really enjoyed them as I thought she would. However, I was surprised by my 5 year and 3 year old children being interested and listening.  They loved the colorful cards! They are even working on a vocabulary box as well. (Sam, 3, takes a more abstract approach but I have no doubt he is absorbing information as he listens and participates. )
I was able to see in another situation that Lone Star's Science Vocabulary Picture Cards are effective. We are required to do yearly testing.  On the vocabulary portion of Hannah's, 7, test she actually encounter words that she learned while using the cards. She was very excited!
There are endless way you can incorporate the cards no matter your style of learning.  I am considering letting them make a lapbook based on these cards. You could also use them in a "Word of the Week" or "Word of the Day" to see how your children could add these words into their daily conversations.  Instead of a vocabulary box, your child could design and create their own dictionary or create a matching game.
Pricing and Purchasing Information:
Science Vocabulary Picture Cards (Set 1) – $29.99 This includes 40 cards.  You can also so see the lists for all the science sets to find the set that is perfect for your student. There are card sets for math and language as well.
While perusing at LoneStarLearning.com, make sure you take a peek at:
Conference Handouts (ideas for using the products)
Members of The Old Schoolhouse Review Crew utilized a variety of products from Lone Star Learning. Check out a few reviews to get a feel for how their products can work for you!
**Disclaimer: As a member of The Old Schoolhouse Review Crew, I received a complimentary copy of this product in exchange for an honest review. No compensation was made and I was not required to write a positive review. All opinions/thoughts expressed in this post are my own. I am disclosing this in accordance to FTC regulations.