Trips to the library are exciting outings in our home.  The opportunity to hunt through the shelves for a good book is treasured.  Earlier in the week, to the dismay of some children, I made a library run with just my oldest and my youngest. Bekah, 14, is quite talented at sniffing out a good read. She quickly had lovely stack for the older kiddos.
Martha, 14.5 months, worked on her skills at finding a good book. I do need to teach her a bit more patience and how to properly shelve books.
This hunting expedition rewarded us with a few treasures that are bound to be new favorites!
Town and Country (Alice and Martin Provensen) takes us into the world of the town and the country.  With detailed, colorful illustrations we get a look into each of these worlds. Not only do we see the stark differences but we see the comforting similarities.  Children will love to search the illustrations and discover all the little details.
Harold and the Purple Crayon ( Crockett Johnson) – No new discovery here. A book that is on book list after book list for children. I grabbed this book a bit hesitantly. Sam, 3, had never enjoyed this book and did I really want to put in to his head the idea of "drawing" his adventures? I was surprised (and delighted) at how much my middle kiddos enjoyed this book. I assume that they do not remember reading it before! Why not enjoy that unexpected delight? I think tomorrow we might have to grab a crayon and do some drawing of our own.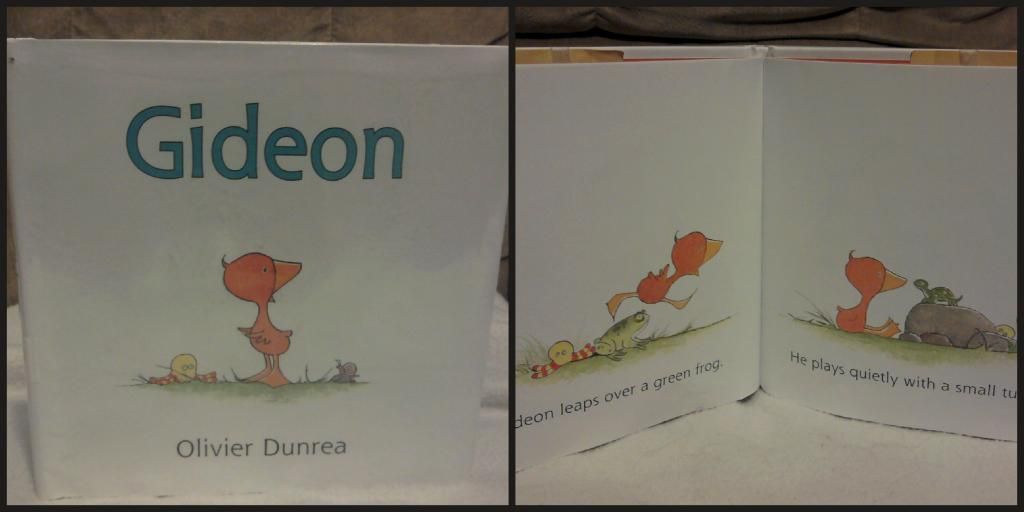 Gideon (Olivier Dunrea) This book is part of a Gosling Series; Gossie, Boo Boo, Peedie and more.  We have enjoyed a few of these in the past. I grabbed this one off the shelf in an attempt to keep Martha from pulling any more books. She has carried this book around for days!  A cute story of a little gosling, Gideon, who doesn't think he needs a nap. He stays busy scampering around the farmyard, dragging his stuffed octopus with him. Cute, cute, cute! The perfect size book for little hands and the pages are that thick, glossy paper that doesn't tear easily. I think I might have to grab another gosling book for my Gooseberry.
Looking for a Moose ( Phyllis Root)- This caught my eye, because, well, who can ignore a moose? It is a "can you find" type of book. A group of children are searching for a moose; in the woods, in the swamp, in the bushes….but they can't find a moose! The text is fun to read and your little ones will enjoy trying to find the moose hidden on the page.  This has become a favorite of Sam, 3.  I think almost everyone in the house has read it to him. He loves finding all the moosies.
I'll share some of what the older ones are reading later.  What new favorites have you found for the read aloud basket?