For the past several weeks, we have had the opportunity to review  for Computer Science for Kids.  My husband and I thought that this would be a wonderful chance for our children to experience and learn beginning programming skills.  Two different options were available for review: Beginning Microsoft Small Basic or Computer Bible Games for Microsoft Small Basic.  We chose Computer Bible Games for Microsoft Small Basic (10 years – adult).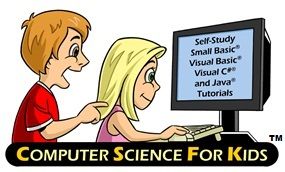 Computer Science for Kids' authors are Philip Conrod and Lou Tylee.  Both Mr. Conrod and Mr. Tylee have vast experience in computer science. They have the ability to write tutorials and material that is easy to understand and put into practice.  You can see the Author's Page to learn more about them.  I must point out that they provided excellent customer service when we began this program.  The response was timely and helpful. I love companies that provide great customer service and technical support!
What exactly is Computer Bible Games for Microsoft Small Basic? This program is designed to help middle school aged children up to adults learn how to use and understand Small Basic programming.  Understanding and practice are built by creating fun and simple learning games and Bible games. Learning Microsoft Small Basic helps build a foundation for other computer languages such as Visual Basic and Java Small Basic.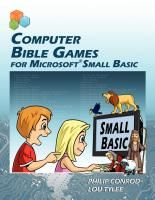 The Computer Bible Games for Microsoft Small Basic consists of 13 chapters; your student would cover approximately one chapter (lesson) per week depending on ability and skill.  Chapters cover introduction, to debugging to basic looping and more.  All the chapters are presented in a simple, straightforward manner that makes this an independent study. You can preview a sample chapter to get a feel for how the course is laid out.
The Computer Bible Games for Microsoft Basic and Beginning Microsoft Basic are the same for the first ten chapters. The difference occurs that instead of programming secular games, the student will program games such as Daniel and the Lions, Noah's Ark, etc.  Learning games such as a savings calculator, sub-sandwich builder, a stop watch, etc will be create as well.  Screenshots are provided of different games.
How did Computer Bible Games for Microsoft Small Basic work for us? It worked out surprisingly well! I will be upfront and say that I was not looking forward to this review. I enjoy my computer but I am happy to let other people make it work and do what I want. However, my children are much like their father and were excited to learn programming.  We had three children that read and discussed introductory information and download information. They were 14, 12 and 11.  My 14 year old decided that she was not interested so I had two students using the course.
We downloaded the program to two different computers and let them run with it.  My 12 year old daughter thrived with this program.  The course tells you to allow for 3-6 hours per chapter; Mary was close to the 3 hours mark. She quickly caught on to the program and enjoyed each lesson. For learning games such as the savings calculator she loved adding in fun text.  For example, after giving your information the savings calculator would calculate your new amount. After giving you the total, Mary had it say, "You look excited."
Mary is excited to continue this course!
Caleb, 11, was our other student for this course. He definitely need guidance and he has struggled to progress as far as Mary has.  Since Mary is doing so well with the course, she provides him technical support when dad is not at home. Caleb's frustration comes from missing the details and not wanting to take the time to find them.  For Caleb, I have found that breaking the chapter down into daily chunks is a better plan. Mary prefers to sit down and do it all in one session.  For the younger ages for this course, 10-11, I would expect some guidance would be needed unless the child was very computer literate.
We have been really pleased with Computer Bible Games for Microsoft Small Basic. It is simple and easy to implement and use.  For ages 12 and up, I think it is definitely an independent study. For those students who need a bit of a challenge, the chapters provide a "Try This" feature for more exploration and learning. So after completing the chapter, it gives suggestions for other things you can make the game do but it doesn't tell you how. You have to do a bit of experimenting. Sometimes it was successful for Mary and sometimes it didn't quite work out. This course definitely gets the Burroughs Tribe Thumbs Up!
What does it cost?
For the review we used Computer Bible Games for Microsoft Small Basic Single User License Digital E-book Download which is normally $59.95. However, until July 4th 2013 it is on sale for  $34.95!!!  If you have a student who would love to learn programming, I think this is a great opportunity for a reasonable price!
Other Schoolhouse Review Members used this course and the Beginning Microsoft Small Basic. Read a few reviews to see what others thought of Computer Science for Kids programming courses.