I love preschoolers.  They enjoy the simplest of activities and have such enthusiasm. A couple of months ago, my preschoolers enjoyed making simple snowmen. Life doesn't get much better than paper and glue!  Knowing how much they love getting in the glue and our endless supply of construction paper, I took a simple children's book and let the fun begin!
Mouse Shapes by Ellen Stoll Walsh is a book we have read numerous times over the years.  The children always enjoy the smart mice and how they use shapes to scare away the cat.  What a perfect opportunity for hands on fun and learning.  We used this book as a springboard throughout the week.  It was quick and easy for me to cut out a few basic shapes, grab the glue and cute kiddos and let them run with it.
We read through the book before we began. There are three mice in the book and Sarah made sure that she could properly match the mouse to the name given in the book.  This combines listening/comprehension skills with observation. Paying attention to which mouse was talking and then looking at which mouse was the focal point helped her to identify the mice. Each one is just a bit different and she was happy to help Sam.
Hannah's preschool days are far behind her but she was an excellent assistant.  Being number five in the family doesn't mean you can't take on leadership and responsibility.  Letting Hannah be my preschool assistant is great for her. She loves being the big sister and sharing her knowledge to help out!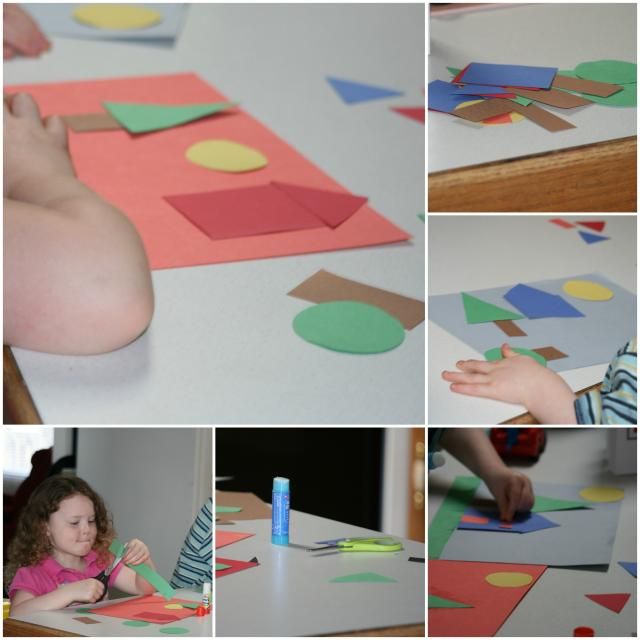 For our first creation session, we used shapes to make houses and trees like the mice did in Mouse Shapes.  I showed them how to take a long green rectangle and fringe it for grass. I helped Sam with his but Sarah did an excellent job. She was very focused as you can see above.  At the last moment they wanted to add a wagon; the mice had made one as well.  They selected their colors and we quickly cut out a rectangle and two circles.
In a perfect world, the next day would have begun with me having shapes precut for another day of Mouse Shapes. However, our days rarely run perfect. Remember Hannah, my assistant? She happily offered to cut out shapes for Sarah and Sam to make a big, scary cat.  Sure, why not? And Hannah quickly went to work.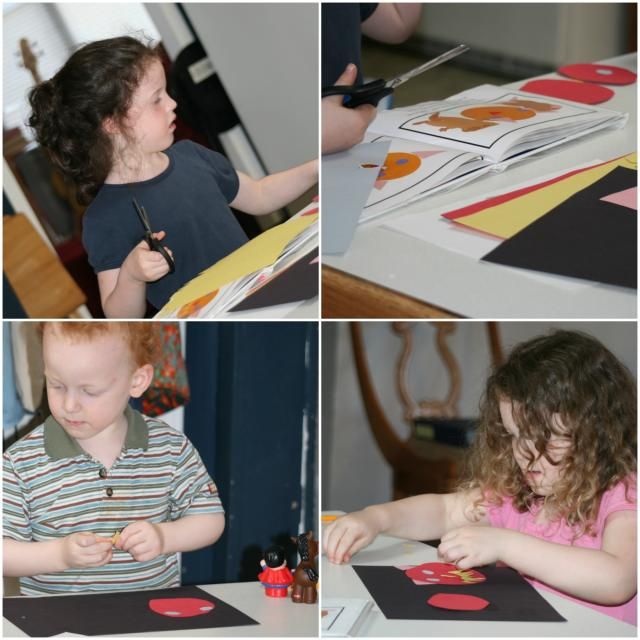 Hannah did an excellent job. Using the book as her guide, she quickly figured up which shapes she needed and how many.  Then she decided to go ahead and cut out shapes to make fish as well.  Go, Hannah!
Sarah used the book to help her assemble her fish and cat.  She didn't need any help from me until her glue was clogged. Once the fish and cat were completed, Sarah spent almost an hour continuing to cut and create with the paper and glue. Does it make a mess? Sure. A mess is worth feeding the imagination and creativity!
I think that we might request Mouse Paint  soon and have a bit more fun and mess!  How are your preschoolers learning this week?