Martha took her time in learning to try and enjoy solid foods.  By 10 months all the other children were happily munching on a variety of goodies from my plate. Martha? No, thank you. When she was around 13 months she finally decided that she might be interested in a bit of food here or there.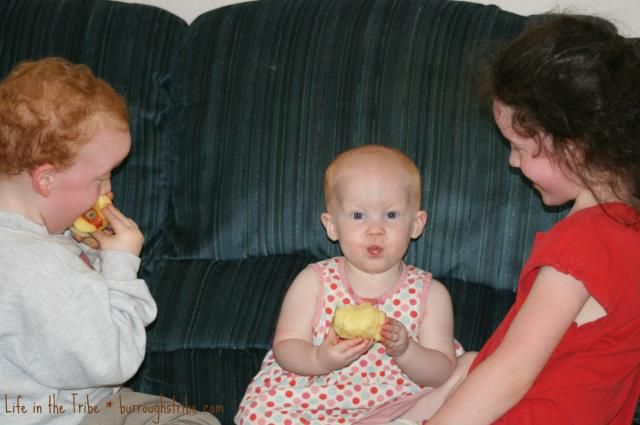 Martha seems to dislike foods that are of "baby food" consistency (except ice cream, lol). Applesauce? She won't even take a bite. I don't blame her. Ew.  I have offered her slices of peeled apples before. Always when I'm with her to see how she handles eating it. At this age, Bekah loved munching on apple slices. Martha? Nope. Pass the banana, please! Or the green beans.
Then peer pressure sucked Martha in the apple eating world.  Hannah came in from riding her bike near the point of starvation. She grabbed a yummy, juicy apple. She made the mistake of offering it to Martha; not thinking Martha would take it. Hannah never saw that apple again.
Yum!  Why eat applesauce when you can enjoy the apple? What nutritious snacks do your kids enjoy?
*My kiddos were hot; not sunburned.  We have no clue why Sam was in a sweatshirt.