Technically, it is not summer yet. However, living in the south means that we usually have a day of spring and move on.  One of the easiest ways to build up the girls' wardrobes is by a bit of sewing.  A few months ago we were blessed with some fabric from a friend who was moving.  In that box of fabric was a green fabric with flowers. Sarah oohed and aahed over it every time she saw it.  She needed a few outfits for summer; I needed an afternoon of sewing to relax.
I decided to dig out a pattern that I have had for years. Simple and easy to whip up but so very cute. It was Simplicity 4927. I have made it with sleeves and without; it is always a favorite to wear.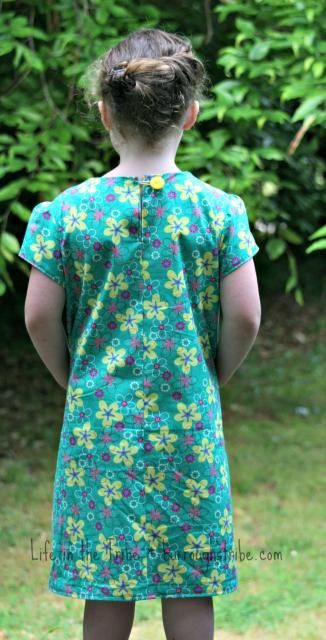 I didn't quite get the dress finished before bed. The next morning I went straight to the sewing machine to finish the hem and button closure. Sarah, very patiently, sat beside me in her pajamas. She did not want to get dressed in anything but her new dress made in her favorite fabric.
Adorable, yes? What are you sewing?