This blog post contains a product review. Please see the bottom of post for a full disclaimer.
Formal art study is one area of study that tends not to be checked off at the end of the week. While my children enjoy looking at art and creating their own masterpieces, it is usually very informal.  I encourage my children to create utilizing the resources we have on hand. With eight children and a small homeschool budget, cost of supplies for most art curricula limit some hands on projects. What a delight to find that See the Light has a line of Art Projects.  We were recently able to get the creative juices flowing with Art Projects: Paper Jungle (In the Style of Henri Rousseau).

See the Light: Drawing Children to Him is a company started by Dave and Pam Holt who love children and want to bring the light of Christ to them through various artistic forms.  They have brought together a team of talented artist to offer a variety of resources.  Pat Knepley, Master Artist, is a part of the See the Light team and is a gifted teacher who has a lovely way of engaging with her audience. She teaches the See the Light Art Class series and also the Art Projects.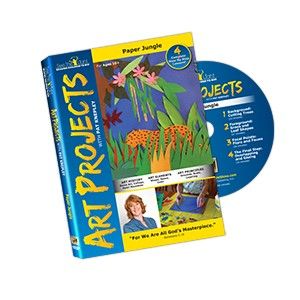 Art Projects are art lessons that focus on one artist and an artistic technique.  There are 9 DVDs in the Art Project series and we were able to view Art Projects: Paper Jungle. This DVD was is geared for ages 10+. Paper Jungle provides over 100 minutes of art instruction broken down into 4 lessons. The supplies needed for Paper Jungle were common items most will have at home: construction paper, scrapbook paper in various shades and patterns of green, glue, scissors and eraser.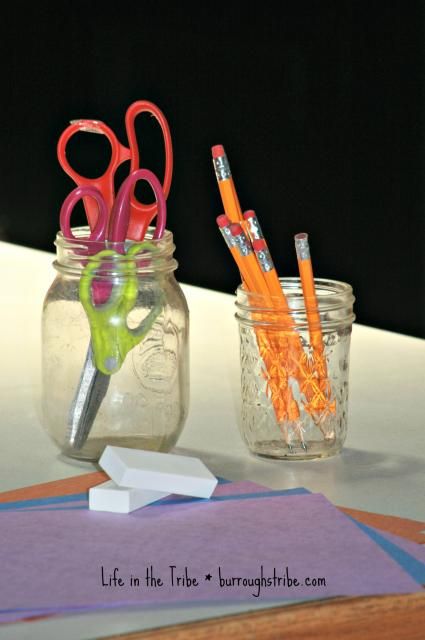 In each lesson, Mrs. Knepley shares information on the artist, Henri Rousseau. Over the four lessons we learned where he lived, how he was inspired to create his vibrant paintings and struggles he faced. After a bit of art history/artist study, Mrs. Knepley then  discusses what the lesson would cover and clearly demonstrated how to complete the task.
The lesson is designed for the student to work along with Mrs. Knepley. She offers encouragement to pause when needed if she is moving along at a faster pace.  Her instructions are clear and easy to understand so that the Art Project: Paper Jungle could be used independently.
At the end of each session, Mrs. Knepley shares a bit of scripture and an application that ties in with the art lesson.  When discussing how Rousseau struggled with others telling him to stop painting because he was untrained, he continued to paint. The biblical application was to do what would be pleasing to God; not to man.
How Did Art Projects: Paper Jungle Work For Us?
I chose Art Projects: Paper Jungle because the supply list made it easy for me to use with multiple children. Creating a paper collage seemed to be a project that the majority of my children would be able to complete. Whenever I can teach across multiple ages, I jump at the chance. With several children who love to create, Paper Jungle sounded perfect!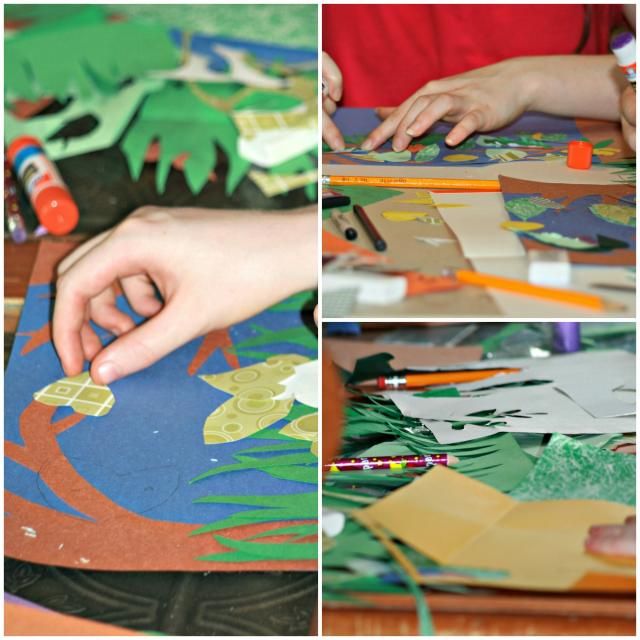 Instead of working along with Mrs. Knepley, the first two sessions we watched first and then created later. That seemed to work out well. The lessons are not overly long (about 25min each) but I did notice that by the end, some of my children were very ready to be creating. For the last two lessons we set up a table so they could watch on the computer and create. How the paper was flying! It worked out well this way. I just reminded my younger ones that we had plenty of time to finish each section so not to feel pressured to keep up.
Everyone enjoyed learning about Henri Rousseau. I grabbed a couple of books from the library so they could see a variety of his paintings and reinforce what Mrs. Knepley was sharing about Rousseau and his painting Surprised.
Art Project: Paper Collage worked well in our home for ages 5 to 14 (and me).  Yes, my five year old, Sarah, was right in the middle of the paper pile.  She had no trouble following along as she is a pro with scissors and glue. She did have a bit of help with her animal and was happy to take others' leftover flowers and leaves. The children had a great time around the table talking, laughing and creating.
Some instructions might be unnecessary.  At some points in the DVD lesson,Mrs. Knepley gives instructions on how to use scissors; how to hold them, turn the paper to cut, etc.  For a DVD recommended for ages 10 and up, I was a bit surprised at this.  My older children thought that a bit surprising as well. In our home, young children are given plenty of time with scissors so by 10 they are quite proficient. This is one reason we decided it was wise to work and watch at the same time.  Otherwise, I risked losing my older ones' interest.
Art Project: Paper Collage gets a huge Tribal Thumbs Up!  It helped us get art study into our week very easily. Breaking down a project into 4 short lessons make it easy to add in art once a week. We learned about an artist and techniques for making dynamic collages.  A few of my children are already creating new collages.  The pricing and supply list makes it affordable for even a limited budget.  I am trying to decide which Art Project we want to try next!
If you struggle to get art into your homeschool, want to work with multiple ages, need affordable resources or just want a fun hands on learning experience, then check out Art Projects! Want something different? See the Light has several products to choose from.
Pricing
Art Project: Paper Jungle DVD is available for $14.99 or you can buy a 9 month DVD subscription. The 9 month subscription means that your receive a DVD each month at $12.50 with no shipping fees.
Want to Know More?
See the Light's website: seethelight.com has information and resources to help you make the perfect choice for your children. You can view previews, enjoy Tip of the Day videos, download lessons and read the blog. Another way to learn more is to stop by the Schoolhouse Crew Blog and see what other reviewers thought of See the Light. Various Art Projects and other products were reviewed and it is always helpful to see what others have to say.

********