This blog post contains a product review. Please see full disclaimer at bottom of post.
Throughout the years, math is one area of study that stays on a steady course.  I have a main curriculum for math that seems to work well for all of my children and I have no desire to rock the mathematical boat.  However, no curriculum is perfect and there are always weak areas or topics that need a bit of review.  Math Mammoth provides a wide variety of math products and I was happy to review a few topics of study from the Blue Series.  Utilizing the Blue Series was an easy way to focus in and really master concepts with a couple of my children.

Math Mammoth provides workbooks and worktext for all grade levels that are available in a downloadable form or printed books.  (I was provided PDF download for this review.) From a course that covers a complete grade level or studying by topic, Math Mammoth provides an affordable option for homeschool families. They even offer Review Workbooks that are perfect for summer breaks or a refresher before moving to the next grade level.
Math Mammoth provides:
Light Blue Series (Complete curriculum, grades 1-6)
Blue Series ( Books by Topic; grades 1-7)
Golden Series (Worksheets by Grade; grades 3-8)
Green Series (Worksheets by Topic, grades 3-7)
Make It Real Learning (Activity Workbooks, grades 3-12)
Review Workbooks (Comprehensive Review, grades 1-5)

The Blue Series
As I wanted to focus on a few weak spots, I chose 4 books from the Blue Series: Multiplication 1 (grades 2-3), Multiplication 2 (grade 4), Addition and Subtraction 2A (grades 1-2) and Money (grades 1-3).
Multiplication 1 – The design of Multiplication 1 makes it perfect for independent learning. In the beginning lessons, it teaches the basics of multiplication. In the last half of the book, your child will work on memorizing the time tables. Also covered is order of operations and word problems.  This is a very simple and straight forward text. It covers the basics of multiplication very well and is not overwhelming. Included as well are resources online such as math games to help reinforce learning. Answers are provided as well.
Multiplication 2 – Multiplication 2 builds on Multiplication 1. In this text, your student will learn to  handle multi-digit multiplication. They will learn to multiply with money, estimation and multiplying with hundreds. 70 pages with 55 of those being lesson pages provide plenty of practice. The text can be used for independent study and provides online resources and answer key.
How Did Multiplication 1 and 2 Work For Us?
I used both of these texts as a review and confidence builder for my 4th grader. She had done well with multiplication in her math course but had several facts that were difficult for her to remember.  I had also noticed that she was beginning to doubt herself when faced with word problems.  I wanted to give her a bit of focused work on multiplication to help her have confidence in her knowledge and allow her to truly master those few facts that she struggled with.  While not the normal use of the two texts, I pulled from both for my 4th grader to use. She did well with the extra drill work and the word problems were really helpful for her.  The work requirement was not overwhelming so she did it as a supplement to her current math studies. I can definitely tell a difference in her mastery of those last facts that were a stumbling block for her.
Addition and Subtraction 2 A – This text gives helpful tools or tricks for adding and subtracting 0 -20 and it focusing on memorizing the addition/subtraction facts for single digit numbers.  It uses "fact families" to help make the connection between addition and subtraction. My 2nd grade daughter was having trouble mastering her addition and subtraction facts. She understood the concept but still struggled.  I felt the this text that combined the two functions would work well for her.  This was not done independently; I work alongside my daughter.  While the information is presented clearly, she had a difficult time with the "tricks" used to teach such things as when adding 8 + 5 making 10 first and then adding what was left over. (8+2 =10 + 3 =13).  It was very different from the learning method of her main curriculum and very confusing for her. We are still working through the text but taking it very slowly.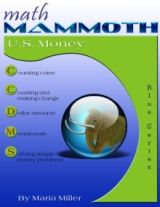 Money – The book on money advances from simple counting to more advanced topics of making change.  Designed for grades 1 – 3 you can progress through this book at a slower pace.  Pictures of money are included in the problems but using real money is always encouraged as the hands on aspect of holding the money is always beneficial. 51 pages of learning about money provide a thorough course. Online resources that deal with money are included for extra practice. At the end mental math and money problems are included.  My 2nd grader used this text as well. I felt she just did not have a firm grasp of money and a bit of review would serve her well. The text is simple in presentation and most days she jumped right in and got to work on her own.  She said that it was fun and she loved counting money. Fabulous! I was surprised at how quickly she progress in her money counting skills.  She is not quite ready for the later portion of the book but she is close! This was the perfect amount of review and work she needed.
Overall Thoughts:
If your child has a weak area or needs some remedial work, I think the Blue Series is great. The four text that we used provided the perfect amount of work without being overwhelming. Depending on your child's level and comprehension ability, they can be used as independent study. The topics go beyond just multiplication and addition.  Other topics in the Blue Series are: place value, clock, measuring, fractions, percents and more.
Not sure what your child needs or which of the series is the right one? Samples are available of all books and a placement test is available as well. Math Mammoth also provides excellent customer service.
Pricing and Purchasing Information:
Multiplication 1 – $5.00 – PDF Download   $9.20 for printed B/W soft copy
Multiplilcation 2 – $4.25- PDF Download  $10.95 for printed B/W soft copy
Addition/Subtraction 2A – $4.50-PDF Download  $10.95 for printed B/W soft copy
Money – $3.25 – PDF Download  $9.50 for printed B/W soft copy
I love the affordable pricing on the PDF downloads. With 8 children will all different abilities in math, it is great to have an economical option; whether for review or a full curriculum.
Other members of the Schoolhouse Crew reviewed the Blue Series and more.  Take a moment and see how Math Mammoth worked for other families.

********