Over the years, my personal time reading my Bible and praying has fluctuated.  There have been seasons of doing my Bible reading during my little ones' nap time. Other seasons of life,  I have spent early morning or late night nursing sessions reading and praying.  The important point for me is to set aside that time to devote to God, to learning more about Him and His ways, to growing closer to the Savior.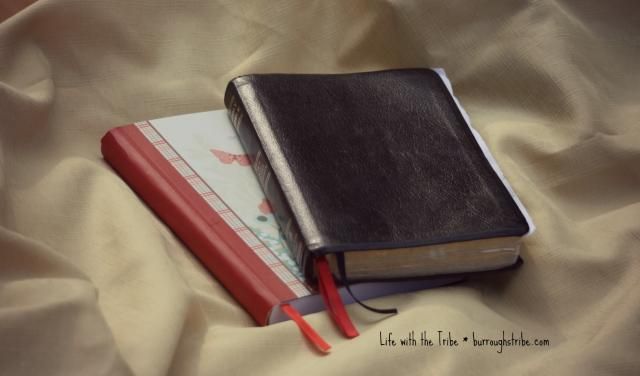 Recently, I shifted my personal Bible reading time back to the morning.  I am in a season of getting more rest at night now that Martha is older, so getting up a bit earlier is getting easier. I will not even try to persuade you that I'm a morning person. I am not. It is challenging for me to rise early. However, I have benefited much from this recent change to my schedule:
Focus for the Day – Starting my day reading scripture helps me to set my mind and heart on things that are profitable and worthy. It sets my heart on truth. It reminds me of God's sovereignty and that the day holds nothing that He can't handle. It helps to get scripture in my mind and that makes it easier to dwell on the rest of the day.
Example for the Children – While I am not a morning person, I have little ones that are.  I have enjoyed a quiet morning or two with a little one close by while I read and pray. It is still and quiet but just sharing that time is sweet.  I pray that they are seeing how important God's Word is to me and that it will be an encouragement to them.
Priority in the Schedule – Having my time in the Word early has helped me to make it a priority to gather and read with my children. I will confess that there are days where we wake up and the day isalready behind.  With children doing various things all through the house, it can be easy to skip the "group time" and let everyone get running with independent things. Starting my day in the Word has reminded of how wonderful reading His Word in the morning is and I definitely want to share that as a family. No matter what the children are in the middle of, they stop and we gather to read as a family.
Motivation for the Tasks – Not only is my outlook for the day better but I get more accomplished.  I can get up early and very easily give in to temptation and "relax" on the couch. Yes, I have done it. We have a very comfy couch. If I purpose to get up early and get in to the Word, it sets a tone for the day. I get more accomplished by lunch than in two or three days combined. After reading about the power and majesty of the Creator, I do not feel like going back to bed!
I am enjoying this season of life; rising early to meet with Lord again. To dive in to His Word, to seek knowledge and understanding of His ways, to meditate and hide in my heart scripture.
When do you enjoy your time with the Lord?
"Give heed to the voice of my cry,
My King and my God,
For to You I will pray.
My voice You shall hear in the morning, O Lord;
In the morning I will direct it to You,
And I will look up."  Psalm 5: 2-3