*This blog post contains a product review. Please see disclaimer at end of post.
Being able to communicate in the written form is an essential skill.  No matter how times change, the written is a powerful means of sharing information, beliefs and experiences. Sadly, teaching writing is an area of weakness for me; not just how to teach but how to proof, correct and encourage my young writers. Thankfully I have had the opportunity once again to review a student writing intensive from Institute for Excellence in Writing: Student Writing Intensive C designed for grades 9-12.  I also received Teaching Writing: Structure and Style, a wonderful tool to aid parents in teaching writing to their children no matter age or material used.
Teaching Writing: Structure and Style DVD Seminar and Workbook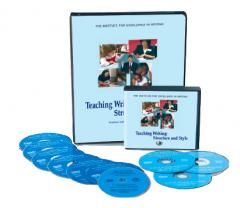 In this DVD/Workbook set, Andrew Pudewa walks you through how to step by step teach writing to your students. No matter the age or ability of your student (or you), you will earn simple, effective ways to create excellent writers. The approach Mr. Pudewa uses is not a new, revolutionary concept. The foundation is simple: take a piece of excellent writing, teach your child to outline it and then re-write it.
In this seminar, you will cover topics such as: Note Making & Outlining, Summarizing, Creative Writing and more. You will become familiar with sentence openers, dress-ups and how to effectively use the student writing intensives at all levels.  6 DVDs of instructions (10hrs!), Tips and Tricks DVD, and three DVDs with samples from each writing intensive level. The seminar workbooks includes, notes, charts, sample lesson plans, word lists and more.  An information packed combo that will enable anyone to teach writing effectively!
The Teaching Structure and Style DVD Seminar w/ Seminar Workbook is $169.00. You can purchase separately if desired.
Student Writing Intensive C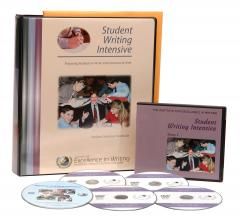 IEW's Student Writing Intensive C is designed for grades 9-12. This writing intensive package includes:Structure and Style Overview DVD for parents (2 hr course that gives the basics of using this method of teaching), four DVDs for the student, binder w/ dividers and student packet that includes all the handouts and information needed for this course.
The course should be completed in 15- 30 weeks depending on how you assign the lessons. A suggested course schedule is provided with the same basic flow each week. The student watches a video segment, practices the technique and then has a writing assignment to complete. From non-fiction to fiction, your student will learn the necessary skills to effective writing.
Intensive C was used by my daughter, Bekah, who is 14. She also used Intensive A several years ago. When I had the possibility of reviewing for IEW again she was thrilled to have the opportunity to use the program again. Bekah finds Mr. Pudewa engaging and witty. I agree. Whenever you can laugh while taking a writing course, well, that is a wonderful thing.
Bekah also shared that she Mr. Pudewa's approach and demeanor as he taught the course. He didn't teach "down" to the students but communicated in a manner that assumes the ability of young people to understand.
When the Student Intensive arrived Bekah grabbed the notebook and DVDs, set it all up and jumped right into the program. At her level and age, I allowed her to use it independently. She follows the suggested schedule and I would critique her work when the assignment was completed. I have never had to remind her to do writing. I have had to remind her to only do one lesson a week. It is a great program and one that produces results! When she finishes this course, we are definitely looking into some of the other writing courses.
IEW's Student Writing Intensive C (grades 9 -12) can be purchased for $109.00. Student notebooks and packets can be purchase separately.
Other writing courses from Institute for Excellence in Writing were reviewed by the Schoolhouse Review Crew. If Student Writing Intensive – C is not right for your child, take a moment and read a few reviews!