*This post contains a product review of Mayan Mysteries from Dig It Games. Disclaimer can be found at end of post*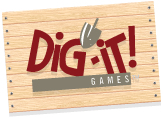 Does your family enjoy history? Do you have a child who enjoys computer games? Want to add a bit of fun learning to your day? Need an activity to beat the heat this summer? You might be interested to learn more about Mayan Mysteries (grades 5 -9) from Dig It Games!

Dig It Games is a company that strives to encourage children to learn and explore the world around them utilizing historically accurate content that enhances their standard curriculum studies. Founded by archaeologist and teacher, Suzi Wilczynski, Mayan Mysteries provides engaging, intellectual game play for children without compromising history.
Mayan Mysteries needs you to help catch the thief who is taking artifacts from Mayan archaeological sites. Joining up with Team Q you will solve puzzles, dig up artifacts and search for clues to help track down Ladrone., the suspected thief. Throughout the game you will use skills in math, reading comprehension, geography and more to be successful at each task.
My 11 year old son was happy to begin this quest and solve the Mayan Mystery. I was surprised at how quickly he completed the game. There were a few times he was challenged by some math puzzles but for the most part found the game easy and boring. Initially, he wanted to play the game a second time through. However, nothing changes: same clues, same tasks…..he thought he would get new puzzles and tasks to complete. I gave my other children an opportunity to play after my son was finished. However, it didn't interest them at all.
There is great content and information shared in Mayan Mysteries. I could see that it would be a great tool to help reinforce studies if you are in this time period of history. The graphics and animation are well done.  One point to be noted is that when you reach the end of Mayan Mysteries there is still work to be done to stop Ladrone…Mayan Mysteries 2 is coming soon. My son was a bit disappointed that no mystery was really solved.
Mayan Mysteries can be purchased for $21.99. This gives you a one year license to play online.
The best way to get a feel for Mayan Mysteries and see if it is something your child(ren) would enjoy is to view the demo. You can also swing by the Crew and see what others thought of Mayan Mysteries.