*This blog post contains a product review. Disclaimer is provided at the end of post.*

The older children and I have been reading from 25 Truths: Life Principles of the Happiest and Most Successful Among Us from Ed Douglas Publications. When this book became available for review with the Schoolhouse Crew, I wasn't sure that it was a book that would fit well with our family. However, after some thought I decided that it might surpass my expectations.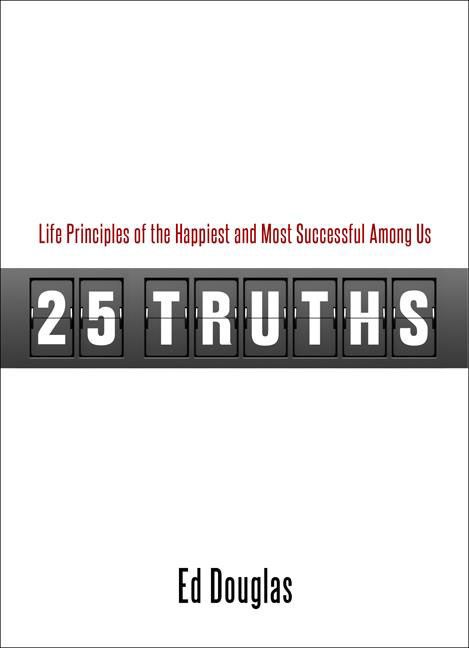 25 Truths: Life Principles of the Happiest and Most Successful Among Us is written to be motivational and inspirational. In approximately 150 pages, containing 25 short chapters, Douglas shares "truths" that he views as important to a happy and successful in life. Some of the "truths" are: Protect Your Reputation, Be Quick to Apologize, Never Surrender and Make Every Day Your Best Day.
The chapters are about 3-4 pages long and end with a sentence summary of the "truth". Then a few questions are given to help encourage discussion and reflection. Chapter 1, for example, is about Protect Your Reputation. Mr. Douglas shares a personal experience when his good reputation helped him during a time when his reputation was called into question. The discussions questions cause you to think of your reputation. Is it good? How have you built a good reputation? etc.
We began reading 25 truths together during our "group learning" time each day. 25 Truths is geared toward young people in grades 6-12 but I didn't see any reason not to use it during our group time. I read the short chapter aloud and then we all discussed the truth. It only takes about 5min or so. Often my children that were younger than the recommended grades, joined in the discussion with no problem.
Did we enjoy 25 Truths? Not really.  While Mr. Douglas is a Christian and scripture is given at some chapter beginnings, it didn't get much deeper than that.  It is great to strive for success and happiness, but being a believer does not mean that you are going to have the world's understanding of success and happiness. 25 Truths, for me, had a strong motivational, business world, prosperity brings happiness feel to it. This is not what we are trying to communicate to our children.
25 Truths could easily be used as a secular book to discuss character and virtue. You could also use the 25 Truths as a jumping off point for deeper study and discussion. Have your children search out what scripture says about reputation or making every day your best day. How does the truth line up with scripture? Are you living life according to those scriptures? For the recommended age, I was surprised that 25 Truths didn't go deeper; it seemed shallow. Despite 25 Truths lack of depth, if you are a family who enjoys discussions of books and life, you can definitely use this book as a tool.
25 Truths is available for $12.50.
25 Truths: Life Principles of the Happiest and Most Successful Among Us was read and reviewed by other Crew members. Please take a moment to see what others gained from 25 Truths.