My husband and I are on a quest to make this the Summer of Fun for our children. No matter the size of your family or the level of your income, you can have fun! One key point for me is to beat the heat! It is hot and humid in the south and I love air conditioning! What better way to beat the heat than with free bowling!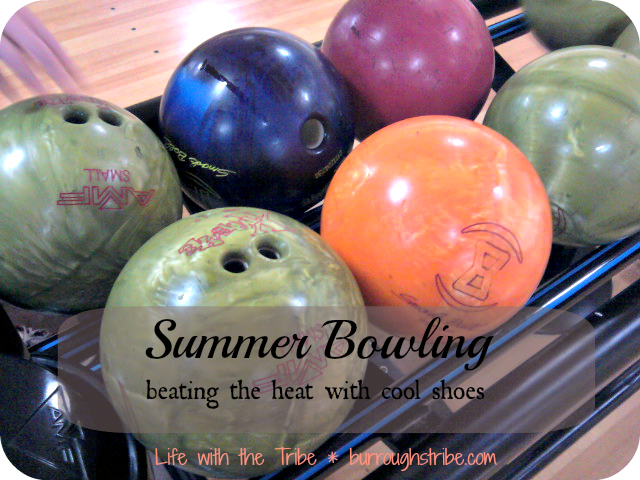 Bowling with a family of 10 who doesn't own their own equipment can be a bit pricey. However,  AMF Bowling Centers have a fabulous deal for the summer months. Kids can bowl 2 free games A DAY all summer.  2 free games. Every day!
Now we don't live close enough to a bowling center to go every day but at least one trip had to happen! Eddie and I managed to snag a coupon deal so we got drastically cut rates for the two of us. The 7 children played 2 games. Free. Shoe rental is not free. And was a bit more than we had expected. However, one of the AMF employees shared with us a great tip. Bring your own shoes: clean soles and non-skid. Excellent tip!
Half of our children had never been bowling before and it has been a few years since any of us bowled. Our scores might not have been fabulous but the laughter and fun was record breaking. Except for Martha. She was not impressed. at. all. Not many pictures were taken. Either we were holding Martha or helping a younger one bowl.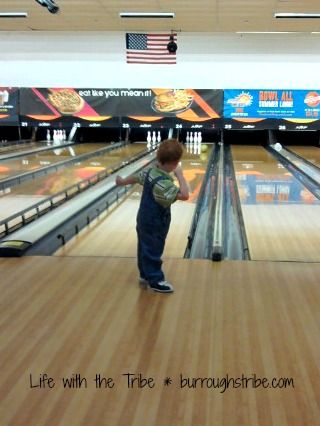 A couple of tips: show up early! We were there when the bowling center opened. It was almost empty the whole time we were there and just started to get busy when we left. To avoid the temptation of the snack bar, we planned ahead. We packed snacks and drinks in the van. It was close to lunch and everyone enjoyed the snack to hold them over until we got home.
Does your family enjoy bowling? How are you beating the heat this summer?