*This post contains a product review. A disclaimer can be found at the end of the post.*
Family Hope Center has produced a DVD, Understanding Child Brain Development, to help parents and others gain understanding and knowledge about the child's brain and how to help with such issues as autism, ADHD, cerebal palsy and other brain injuries.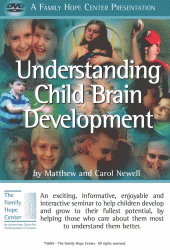 Andrew Pudewa, from IEW, introduces us to Matt and Carol Newell, directors of the Family Hope Center. The Newell's desire for the Family Hope Center is to help special needs children and their parents to overcome and correct brain dysfunctions and disabilities. The Newell's are both certified in Craniosacral and Myofascial Release Therapy. Not only are the Newell's professionally trained to work with special needs children, they also used these processes with their daughter.
Understanding Child Brain Development is a 2-hour DVD that walks you through brain development from birth to 36 months. Covering such topics as: Why do Brain Dysfunctions Exist,  The Sense of Smell, Integrated Therapy, The Effects of Water and more, this DVD will provide a foundation of knowledge for you to become informed about your child's brain development and understand the root of some brain issues.
This DVD was absolutely fascinating!  Mr. Newell has a gift of taking something as complex as the brain and explaining in a way that  is easy to understand and absorb. As he discussed the importance of a baby coming through the birth canal and the immediate sense of smell, I reflected on the birth of one of my daughters. She was born via an emergency c-section and several hours passed before I was able to hold her. How this could have played out in her earlier development was astounding.
The importance of allowing the baby to spend time on his belly was discussed. Not only does giving the baby time on the belly aid in learning to creep and crawl but that movement aids in proper digestion.  Why is that important? Creeping and crawling help develop left/right coordination and side dominance. All important for learning to read and process information. Left/right coordination is what your eyes have to do to read.  Digestion is related to brain function. Poor digestion? There is going to be issues with brain function.
Water was another topic that was addressed. Not only is our body as a whole 90% water, but the inner portions of the brain are 80% water. Don't think of water just as a beverage to drink but also consumed through our food intake.
Family Hope Center knows that parents love their children and are heartbroken at not knowing how to help their child succeed and thrive. Mr. Newell affirms to parents that they are not the problem; the problem is the problem. So very true!
Family Hope Center seeks to treat the child via various therapies and healthy nutrition. Prescription methods often just cover the symptoms and do not get to the cause. Family Hope Center doesn't give a prognosis of "your child will never progress past this age" but give a diagnosis and a plan to help your child overcome their brain injury and succeed.
There is so much wonderful information packed into this DVD. Whether you have a child with a brain injury or not, you will gain much insight from watching.  This DVD could be viewed by older students who are studying anatomy or are interested in working with special needs. I plan to have my older children view it as well.
Family Hope Center has a range of helpful information on their website. If you are interested, you can purchase a copy of Understanding Child Brain Development for $19.00 by calling 610-397-1737 or order online at Institute for Excellence in Writing .