*This blog post contains a product review. See disclaimer at end of post.*

Whether it is writing or math, we all have subjects or areas that challenge us as moms/teachers. While I love to discuss literature and find history interesting, science is my weak spot. If any subject falls off the to do list, science would be one of the first to go. This is when it is so valuable to have companies such as Apologia that provide homeschool curriculum that engage your students in the world of science. We have enjoyed the Young Explorer's Series in the past and were excited to receive Exploring Creation with Chemistry and  Physics to review. In addition to the main textbook, we also received Exploring Creation with Chemistry and Physics Notebooking Journal and Exploring Creation with Chemistry and Physics Junior Notebooking Journal. Fun learning times for the Tribe!
Exploring Creation with Chemistry and Physics by Jeannie Fulbright
Like the other selections from the Young Explorer's Series, the Chemistry and Physics text is designed for grades K – 6th. This provides an excellent way of teaching science when you have more than one child in this age range. The presentation of information, while thorough, is presented in a manner that is easy for a child to understand and apply. Throughout each lesson, natural breaks occur in the reading to provide an opportunity for the child to share with someone what they have learned. This time of narration, whether written or oral, helps to reinforce the information.
Within each lesson several "Try This" opportunities help in application of the lesson. "Try This" is a small scale experiment. Quick, simple and fun!  In Lesson 2, there is a "Try This" dealing with liquids.  All that is needed is wax paper or plastic and water. While this was a simple task, the ability for the child to have hands-on science helps with retention. They vary in degree of difficulty so while adult supervision is recommended, even your youngest of students can tackle some of the tasks.
At the end of each lesson, a discussion of all the concepts covered is encouraged for review. For moms like me who struggle to keep it all straight, answers to several questions are given in the back of the book. Generally, after a question or two, the children are having no problems with discussion. An End of Lesson project is provided as well. This fun experiment is a great way to wrap up all that was learned in the lesson. From lava lamps to filtering your own water, you don't want to skip the Projects!
Depending on the ability of your child, Chemistry and Physics could be done independently. Your child could read the information on his own and then show what he has learned in a variety of ways.
Exploring Creations with Chemistry and Physics Notebooking Journal ~ Regular and Junior
We received both notebooking journals to use with Chemistry and Physics. Since I was using this science curriculum with three children, it was nice for them to have a notebooking journal of their own.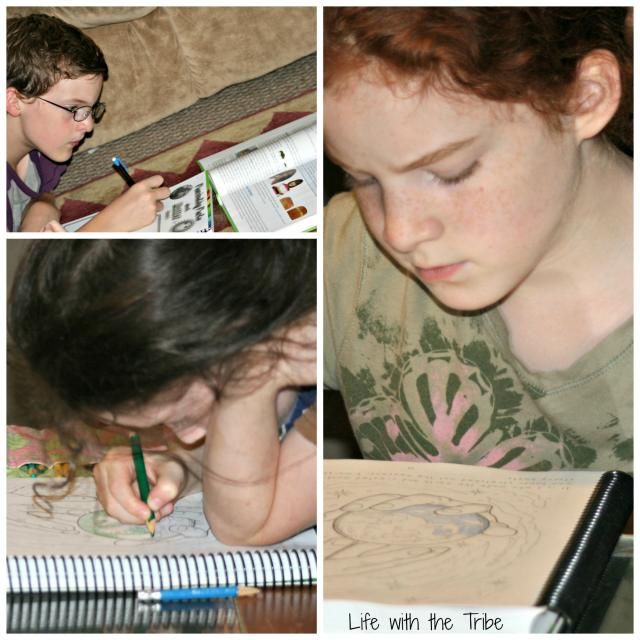 The notebooking journals provide an excellent way for your child to showcase what they have learned and to have a bit of review. The two notebooking journals – Regular and Junior – have a few things in common:
They both provide a suggested lesson plan that help you break down the reading, experiments and notebooking into manageable chunks.
In each notebook, pages for journaling are provided with areas for illustrations as well.
Fun activities like crossword puzzles or play writing are included. For each lesson, a mini-book is to be cut out, glued in and completed with information.
A Scripture copywork page, in cursive or print, is a part of each notebooking lesson.
More experiments are provided for those who just love hands on learning!
Designed for two different age/ability levels, there are a few key difference in the notebooking journals:
The Junior notebooking journal, designed for younger elementary or those who struggle with writing, has larger lines for writing and few lines. Illustration blocks are still on each notebooking page. The lines have a middle dotted line to aid in letter formation. The Regular notebooking journal has normal lines for writing and provide much more writing space.
The Junior notebooking journal has coloring pages in each lesson. The Regular notebooking journal does not.
Both notebooking journals provide activities such as crossword puzzles but the Junior notebooking journal is not as indepth as the Regular notebooking journal.
Our Thoughts on Exploring Creation with Chemistry and Physics Science Curriculum
Since we do not have avid science fans in our home, I was excited to share Chemistry and Physics with three of my students (6th, 5th, and 3rd grades). It works well for our family to be able to teach multiple levels at the same time. Not only is it efficient time wise but it creates a sense of teamwork.  They enjoy working together and learning from each other.
During the day, I'd gather the Trio together and we would do a bit of reading, discussing and then they would tackle a bit of the notebooking journals. The "Try This' sections in each lesson were a favorite. We referred back to them frequently as we discussed various concepts such as matter and density. Having the visual, hands on applications really helped in understanding.
While Chemistry and Physics is designed for K-6, I don't think I would recommend it for younger elementary if the child was the only student. My 5th and 6th graders had no problem taking in the information. However, my 3rd grader struggled a bit more. If I was covering science with just her, Chemistry and Physics would not be my first choice. It is working well in a group setting but we have slowed our pace down a bit.
The Chemistry and Physics Notebooking Journal ~ Regular and Junior are a wonderful resource. They do provide a great way for gathering information together all in one spot. We did have a few concerns with the notebooking journals.
We do not use special handwriting paper so the dotted, large spaced lines in the Junior Notebooking Journal were a problem for my younger student. She is accustomed to writing on normal lines so it was frustrating for her to try to adapt to writing larger. I told her to just write smaller as if the dotted line were solid.
I would love to have the option to copy/print just what we needed for the notebooking journals. I understand the reason and advantage of having a spiral bound journal  that holds all the information. For our family, I'd love to be able to print coloring pages for younger and older students, having a choice on printing just the copywork page I needed instead of "wasting' the one that wasn't going to be used, or letting my struggling writer enjoy the more challenging crossword puzzle.
Overall, we are enjoying Exploring Chemistry and Physics and learning so much! It is lovely to have science presented in a way that is manageable and understandable. This might be one of the children's favorite science courses so far. If you are looking for science curriculum, definitely look into Chemistry and Physics or one of the other Young Explorer's Series.
Price/Purchasing Information
Exploring Creation with Chemistry and Physics is $39.00.
Exploring Creation with Chemistry and Physics Notebooking Journal is $24.00
Exploring Creation with Chemistry and Physics Junior Notebooking Journal is $24.00.
Samples of each of the above products are available at the above links. You can also read other reviews from the Crew.