My children come by their love of literature quite naturally. The stack upon stacks of books from the library contain many for my own pleasure reading. Pass up a chance to review a good read? I'm always open to stretching my literary bounds and trying something new. At Home in Dogwood Mudhole by Franklin Sanders is a three volume series sharing collections of letters from The Moneychanger Newsletter.  At Home in Dogwood Mudhole Volume 1: Nothing That Eats has been gracing my bedside table for weeks.

Who is Frank Sanders and Where is Dogwood Mudhole?
"Lodging next to a lake with seven kids for three days is no vacation, I'll promise. If you want rest, this is like somebody giving you a cookie when you're hungry. It doesn't satisfy your hunger; it infuriates it." page 8 Nothing That Eats
Frank Sanders, married and the father of seven children, is The Moneychanger. For nearly twenty years, Mr. Sanders has written newsletters sharing with others about gold and silver to help Christians prosper. In each newsletter is a Dear Reader Column. It is from this column that At Home in Dogwood Mudhole was born. Mr. Sanders shares about daily life, history, battling the IRS, and more.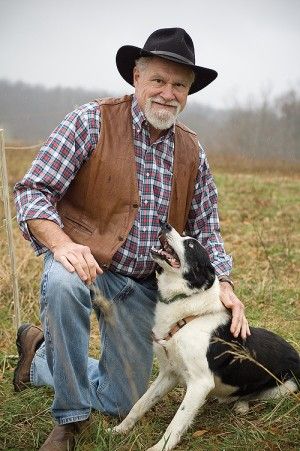 So, hmm, where is exactly is Dogwood Mudhole? Dogwood Mudhole is in middle Tennessee.  As the Sanders family begin their journey of moving to a self-sustaining lifestyle, they end up in Dogwood Mudhole. This setting provides the backdrop to many adventurous and hilarious tales of the Sanders family.
"We were piled in that poor Camry, lurching down the road hauling granite and piles of stuff and the three of us packed in there with our noses pressed to the windows for air. I got an urge to stop at a junk pile and retrieve an old mattress to tie down on the top just to round out the picture, but Susan wouldn't let me. pg 108 Nothing That Eats
At Home in Dogwood Mudhole Volume 1: Nothing That Eats
Nothing That Eats begins in June 1995 with the uncertainty of Y2K looming. While we may look back on that time now and shake our heads while chuckling at those "crazy" thoughts, some adults during this time were cautious of the possibilities. The Sanders family was one of those families that chose to err on the side of caution and set out to prepare themselves for financial institutions and the government to come to a screeching halt. The goal: to move to the country and be self-sustaining as possible.
"I stopped at the gate. The sun was nearly gone, but the horizon still burned red. The moon was bright enough to cast a shadow. The gentle hills had blackened into silhouettes against the evening sky. Now who could think about mutual funds, or gold and silver, or IRAs, or geopolitics with all that going on? Maybe I had the right ambition after all." pg 226 Nothing That Eats
Mr. Sanders shares the adventures of raising dogs and chicken together, finding quaint local eateries along the road, and going to jail courtesy of the IRS. Along side of the laughter and chuckles, we see a man who loves his family and loves his Lord. Mr. Sanders also weaves Confederate history in some of his writings. His family shares a love of participating in re-enactments of the War Between the States.
At Home in Dogwood Mudhole, since it is taken from a column from a newsletter, is written in a journaling style. The entries are dated and take us from the summer of 1995 to late summer of 2002. Mr. Sanders' writing comes across as a friend relaying stories to a friend.
"Y2K came and went. Some folks seemed disappointed the world didn't collapse, but I was just as happy it didn't."      pg 184 Nothing That Eats
My Thoughts on At Home in Dogwood Mudhole Volume 1: Nothing That Eats
When the book arrived, I was regretting just a bit having on it my review list. While my interest had at first been piqued, I was doubting now that this reading would be enjoyable. I was pleased to discover how wrong I was!
While I didn't sit up until 4 am to read just one more chapter, I did keep this book by my bedside for nightly reading. Each night, I'd grab Dogwood Mudhole and enjoy a good read. It was engaging, interesting, and humorous. I appreciated how Mr. Sanders revealed his faith throughout his writings. You can clearly see his enjoyment of his family and his life. Even when facing years of court battles with the IRS, Mr. Sanders finds humor. It was a frequent occasion when I would share snippets of the book with my husband.
I am considering either reading this aloud or letting my older children read this on their own. It would provide not only entertainment but would spark great discussions on character, hard work, and perspective. It would also make a great gift to book lovers.
Due to the author's bias toward certain aspects of life such as government and the flavor of the book, Dogwood Mudhole might not be for everyone. You can go to At Home in Dogwood Mudhole and read a sample chapter to get an impression of how the book reads. You might find that, like me, you are pleasantly surprised.
Pricing and Purchasing Information
At Home in Dogwood Mudhole Volume 1: Nothing That Eats
Paperback is $22.95
Kindle/e-PUB/PDF is $16.95
Volume 2: Best Thing We Ever Did will be available after November 15th for the same pricing as above.
As always, other Crew Reviewers traveled to Dogwood Mudhole so stop by and see what they are saying. Don't forget to read a free chapter!!