There is never a shortage of books in our Read Aloud Basket. Often we have more than one read aloud going at once for various groupings of family members. As we headed in to December this year, I purposed to read a selection of books (some old friends and some new) to help enjoy this special time of year.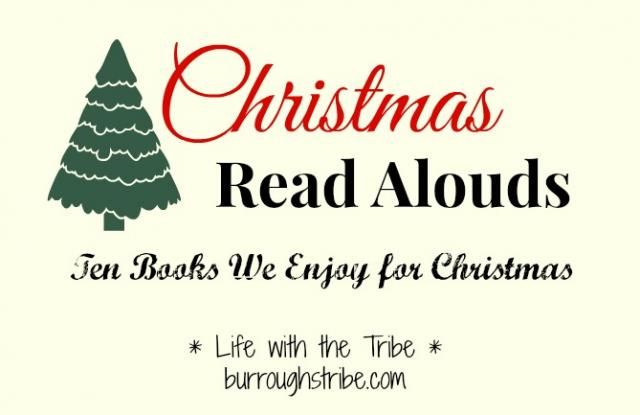 While we are still waiting on a few books to become available at the library, I thought I would share ten books we are currently reading. Hopefully you will find some books to add to your Christmas reading!
Two of our Christmas Read Alouds are chapter books that have been read again and again (and not always at Christmas).:
The Lion in the Box by Marguerite de Angeli
The Christmas Doll by Elvira Woodruff
Both of theses selections will help you and your children to take a peek into the lives of those who face a variety of struggles and hardships. Beautiful stories that children of all ages will enjoy.
Now for the Christmas Picture Books – from a family enjoying the tradition of decorating a tree for the animals to stories that remind us of the beauty and truth of the season.
Night Tree by Eve Bunting
The Candymaker's Gift by David & Helen Haidle
Lucy's Christmas by Donald Hall
Silver Packages by Cynthia Rylant
The Story of Holly and Ivy by Rumer Godden
An Orange for Frankie by Patricia Polacco
The Dolls' Christmas by Tasha Tudor
Christmas Tapestry by Patricia Polacco
Grab a book, cuddle up on the couch, and enjoy a beautiful story with your children. I'd love to hear what is in your read aloud basket. Please share!