Happy Friday!  Here's a few random thoughts from this past week….
1 -This has been the week of the pointless to do list. I don't think we have had one day that was even close to the plan. There is always next week, right?
2 – Our long December break should have included math. Especially Algebra. Serious brain cramps have occurred this week as the brains have tried to transition back to mathematical skills. We are very thankful for chocolate.
3 – Having a menu plan this week has been a huge blessing.
4 – I love finding surprise pictures on my refrigerator. This one popped up this week.
5 – My husband is the best. He never hesitates to swing by the library and pick up books on hold for me. This week he went to pick up books and left three behind. Without a word,  he went back the same evening to get those books. Yep. He's the best.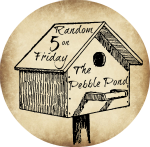 I'd love to hear your Random 5!