Hi! I'm so glad you stopped by for Day 2 of the 5 Days of Homeschooling Essentials Blog Hop. For Day 1, I discussed how laughter is an essential in our home. Today, I want to share with you another of my top five homeschooling essentials: Love.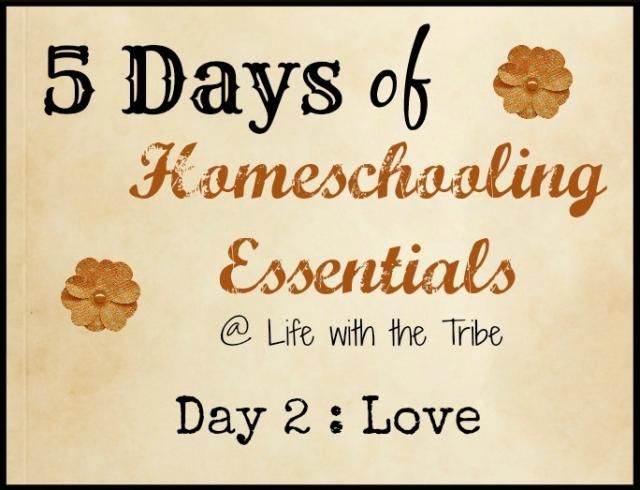 Love

: pronunciation:

lŭv (noun)

A feeling of strong attachment induced by that which delights or commands admiration; preeminent kindness or devotion to another; affection; tenderness; as, the love of brothers and sisters.
Love is a homeschooling essential? Yes, it is. I am not talking about loving your children. Of course we love our children! I'm sure for most of us that the love for our children is the foundation of why we homeschool.
Today I want to share about the attitude of loving and how it is essential to success in homeschooling.
"Love suffers long and is kind..." – Patience and kindness; showing those to our children comes from an attitude of love. I'll be honest. There are days when patience and kindness is a clear choice. I have to remind myself to not "lose my patience". Maybe it is frustration over a phonics lesson that isn't clicking or maybe someone forgot to take the trash out again. Perhaps there is one more missing book. Before I know it I have spoken harshly or raised my voice. Hear that? Yep, a clanging cymbal. Benefiting no one. Not my children and not myself. It certainly isn't helping the flow of our day. If I remind myself to speak in love, to show patience, to speak and act kindly, how will that affect my children? How would it impact our homeschool?
I Corinthians 13 ~ beautiful words to remind how to love
"Love does not envy; love does not parade itself, is not puffed up…" – Anyone suffer from homeschool envy? Did you see her homeschool room? Wow, I'd love to have my child able to take a class like that! Envy much? It is an easy hole to fall into, isn't it? It can happen innocently enough. Browsing a few pins on Pinterest and before you know it, you want to remodel your house. Well, if you could. There are many days I catch myself not loving the home/space the Lord has blessed us with. Are there homes with bigger and better floor plans? Nicer tables? Comfier couches? I'm sure there are. I need to focus on the provision God has given me and accept and embrace that it is exactly what our family needs. If I purposed to love what God has provided, how much smoother would our days flow? What would that do for my children?
Am I writing about this attitude of love because I have attained perfection? No way. I am writing to myself. I need the reminder to start each day with the attitude of love. So easily I can find myself being unkind, rude, and seeking what would make me happy; not necessarily what would be the best for myself and my family. Why aren't I showing tenderness or devotion instead?
When homeschooling, there are going to be struggles and bad days. We are all going to miss the mark at some point. If we purpose, each day, to start again…to embrace the grace and mercy the Lord gives us and set our hearts to love our children, our home, our role as a homeschool mom, what amazing things can He do?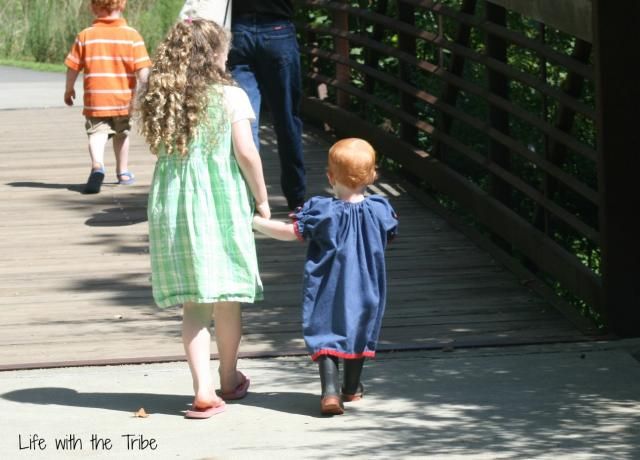 As I am finishing out this post, a lovely idea came to mind. I am going to spend a couple of weeks reading 1 Corinthians 13 daily and praying the Lord would use those words to strengthen my attitude of love in my role as a homeschool mom, toward my children, and for the tasks of each day.
I hope that you have all had a bit of laughter in your day and that you are loving the moments!
Don't forget to check in with my fellow bloggers that are sharing their homeschooling essentials! I know I am enjoying reading them.
Erica @ Be the One
Ellen @ Grace Tells Another Story
Jenn @ Treasuring Life's Blessing
Christine @ Our Homeschool Reviews
Michelle @ Delightful Learning
Hillary @ Our Homeschool Studio
Melanie @ FinchNWren
Brittney @ Mom's Heart
Heather @ Principled Academy