This week flew by and before I knew it, Saturday was here!! It was a fabulous week of glorious weather and we tried our best to appreciate every moment.
1 – After mornings spent on book work, afternoons of romping in the woods and exploring were enjoyed. We did have one unfortunate tumble into a creek (glorified ditch) but other than wet pants and a bit of mud, they trudged onward.
2 – Caleb was thrilled that the man who owned the property next to us was happy to pass over the stack of wooden pallets just sitting. Not only did the kind gentleman give the pallets to Caleb, he delivered them with a bulldozer right to our backyard. Sam was one happy four year old! Fort plans are underway.
3 – Peg dolls are, by far, some of the simplest, greatest toys we have ever given to our children. Everyone loves gathering odds and ends and creating fabulous living spaces for the peg dolls. Gorgeous weather allowed them to venture out and create a natural environment for the peg dolls. Love when imaginations can soar.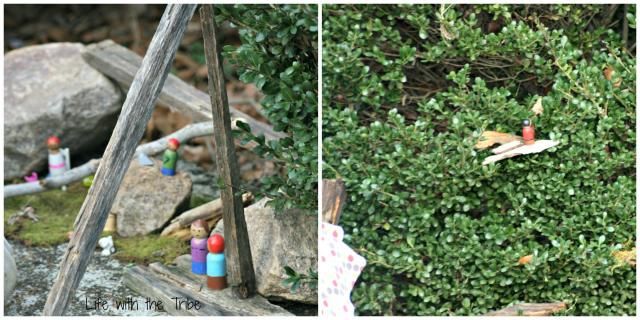 4 – Friday brought the return of choir for younger and older kiddos. It is a great time to spend with friends but also build on their love and skill in music. I enjoy listening to the singing and laughter.
5 – Friday after choir also brings a quick trip to the library for some weekend reading. The offerings are not  always plentiful. However, Mary was thrilled to search out two Agatha Christie novels and The Hounds of Baskerville. Should I be concerned that my children love sniffing old books? It is such a soothing smell!
Looking back, I have to say that it was a great week. Unchecked items on my to do list? Of course! Did learning and laughter happen? Yes, it did. Looking forward to what next week holds in store.