**This blog post contains a product of review for Mango Homeschool Edition from Mango Languages.**
Whether in your community or the future workplace, the ability to communicate in more than your native language is a valuable asset. Living in a world where travel and communication is becoming easier every day, we see a constant exposure to other cultures and languages. If you are a homeschool parent searching for a curriculum or resource to aid in instructing your children in a foreign language, it can be overwhelming! The number of foreign language options continue to increase. Now you have a new option to consider: Mango Languages has recently expanded to include Mango Homeschool Edition.

What is Mango Languages
Mango Languages is an online language resource that uses conversation based lessons as the foundation for learning a language and quickly putting it into practice. With over 60 languages to choose from, everyone can study and learn a language or two! Depending on the language you select, there may be one, two, or three "journeys". Journeys are similar to learning levels as they grow in depth and difficulty.
Mango Homeschool Edition
For several years, Mango Languages Passport learning system has been used in businesses, libraries, and with K-12 schools. Mango recently expanded to include the homeschool community. For the past several weeks, we have been reviewing a beta edition of the Mango Homeschool Edition.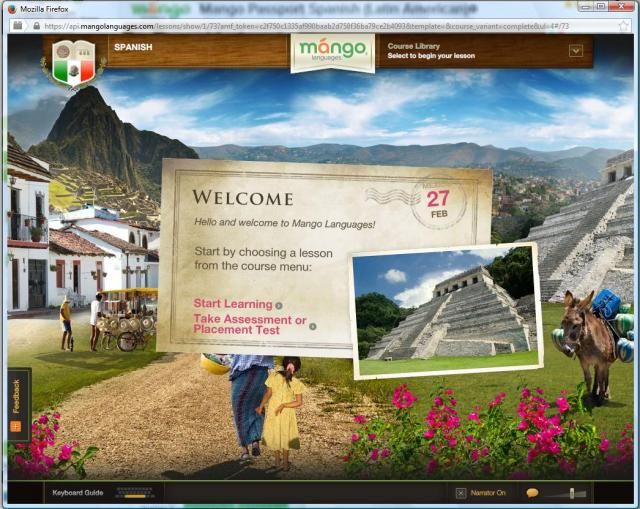 While some aspects of Mango Homeschool Edition are still in production, Mango Languages still had plenty to offer and my children loved it! Four of our children were signed up to use Mango Homeschool Edition and found the online learning very easy and engaging. Due to our location, we required that they take Spanish and were then free to choose another language.
You heard right! When you have an account with Mango, you are not limited to one language. You can access as many as you like. Some of the other languages my children selected were German, Chinese, and Latin.
Using Mango Homeschool Edition
Once you sign in to Mango Languages you select which language you would like to learn. It is referred to as joining a "space". As soon as you select a language you can begin.
The lessons are presented in a flashcard style that is engaging and efficient. The flashcards present phrases and conversations in both audio and visual. Opportunities are given for you to practice speaking in the language. One huge help with Mango is that if you have a microphone, you can compare how you are saying a phrase with the correct pronunciation. You will be asked a question and when you answer, you can see a comparison. This allows the student to really focus on mistakes in pronunciation. Having this feature was a tremendous help to us.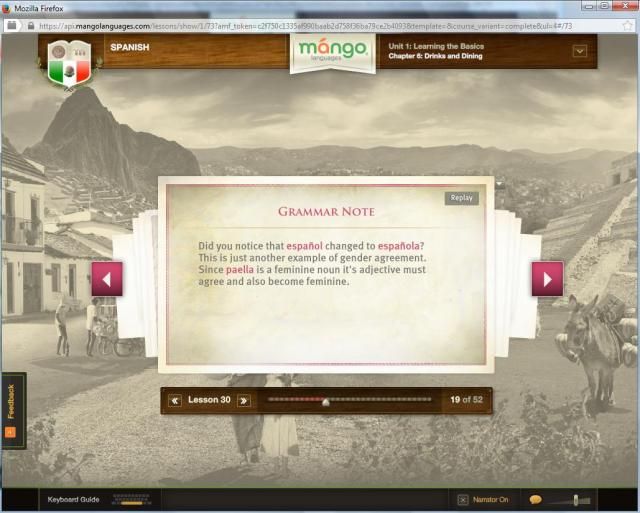 Conversational Goals are given for each lesson so there is a clear expectation for the learner. Lessons also include cultural notes and grammar aspects as well. It clearly explains the nuances of the languages and formal and informal uses. While providing a solid learning experience, the lessons are not overwhelming in information presented and in time requirements. When necessary, reviewing a previous lesson is easy to do.
Mango Languages, including the Mango Homeschool Edition, encourage community. Within each space, members of that space can interact with other via a forum style system. Whether it is to engage in conversation in the language of study or to ask a more experienced student of the language a question for clarification, Mango believes that a community environment encourages learning.
My children did not participate in the community aspect of the program. Although Mango understands the need for internet safety, it is my job as a parent to protect my children and provide internet safety. The community environment is not limited to homeschoolers or a certain age.  Adults and children alike can be in the same communities. I just wasn't comfortable with that aspect at this time. My children had no interest in the community section. If you use Mango Languages, the benefit of the communities would have to be weighed against your internet standards as a family.
Our Experience with Mango Homeschool Edition
Mango is designed and presented in such a way that even the youngest student can use the program. My younger children did not use this program as I felt my older students could benefit more at this time. However, as long as a child can read and do the basics of navigating the computer, they would do fine with Mango.
My older children used this program independently. Mango is very easy to use and while the presentation via the flashcard style is simple, it was perfect. I rarely had to remind them to sign in and do a lesson. They enjoyed Mango immensely. They were learning within the first lesson; not only learning but adding Spanish phrases into our conversations.
Mango is very simple and straightforward. It is actually pretty fun. I like when the lessons would ask you a question and you had to use what you had learn to create your own answer. It really made you use your thinking skills.

Mary ~ 13

Features of Mango Languages:
Over 60 different languages
Progress assessments
Built in journals, discussions, and wikis
Collaborative learning spaces
eNote messaging/chat rooms
Access to embedded/downloaded content
Support from other community members
Calendars to schedule meetings or study groups
In the coming months, Mango will be offering new features in the Mango Homeschool Edition. They are: Enhanced Tracking and Progress Monitoring, Goals and Personal Lesson Plans, Resume and Portfolio Builder.
There is one aspect of Mango Homeschool Edition that is lacking; there is no writing aspect to this program. While your student can informally write as they learn the language, the program does not include instructions in writing in a foreign language. I am not sure how that would affect counting languages study with Mango as full course credit. Mango is designed to get you speaking a language quickly and effectively to put it into practice.
I like the end of chapter quiz and the grammar notes. Being able to compare my speaking the language with Mango was really helpful. The cultural notes were very interesting. I think the grammar was the most challenging part but I look forward to continuing learning Spanish.

Bekah ~ 15
Mango Homeschool Edition Pricing:
1 subscription is $18/month or $125/year total
2 subscriptions is $28/month or $175 /year total
3 subscriptions is $38/month or $225/year total
4 subscriptions is $48/month or $275/year total
5 subscriptions is $58/month or $325/year total
When you purchase a subscription you are not limited to a certain number of languages; you can learn and study as many languages as you wish.
Mango Homeschool Edition is on online program and you are purchasing just a year of using the program. For our family and budget it would not be a program that we would purchase. To pay over $200 for a year of use would not be wise for us if this were to be our foreign language curriculum. However, if you have a student preparing for a mission trip or a gap year abroad, a Mango subscription could be a valid option. It would definitely give the conversational skills and vocabulary needed to communicate.
Mango Homeschool Edition does offer a 30 day free trial so you can experience the courses for yourself. You can also read other Crew Reviews to get different perspectives on Mango!