Before we were ever expecting our first child, Eddie and I had made the decision to homeschool our children. Oh the fun I had researching curriculum and making plans!  Those days when I sat on the floor reading to Bekah and Mary with Caleb snuggled in my lap, high school seemed so far away. In my mind those years were in the distant future.
Quite honestly, I didn't think too much about high school. Life was busy. I was savoring and enjoying my kiddos where they were and not worrying about the future. Long range planning and organization would not be high on my skills list.
Then, one day, bam! that little curly headed preschooler was in high school. Not only was Bekah in high school, but Mary was right behind her. This momma did not have a plan.
One day Mary asked me what she had to complete to graduate. Um, good question,darling. She left a note on my desk stating that she had "passed first grade so she had now graduated". Mary would be a big goofball but it certainly has this momma buckling down on the planning.
My first step was to make sure that current studies were flowing well. I am a pencil and paper girl but am trying to embrace technology and make it work for me. I sat down with Bekah and we discussed her studies, the time she needed to accomplish her assignments, and what method works best for her learning.
We then went to her Google calendar and scheduled her studies. Working in bigger blocks is helpful because she has time to dig deep without being interrupted at a crucial point. We can both access her calendar and make adjustments as needed. Is her schedule set in stone? No. However, it has been a great tool to help her manage her time and responsibilities. We even scheduled Friday as a No Math Day and I think we both enjoy the mental break.
Since this has worked so well for Bekah, a similar system will be set up for my other children who access Google. I haven't completed ditched the pencil and paper method. Bekah has a printed out assignment sheet and the others will as well. Slowly embracing the technology; slowly.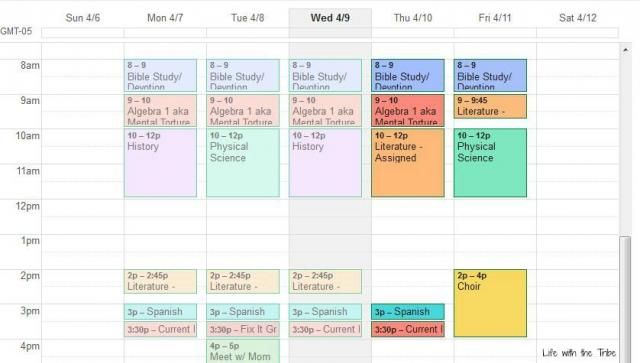 The next major step is to discuss Bekah's goals for the future. Decide what our basic "requirements" are for our homeschool and then adjust for Bekah's personal interests as well. While I hate that I had my head in the sand in regards to how soon the high school years would hit, it is nice to know that I will have it all settled before Martha reaches this point.
Do you have your own requirements for graduating or do you use your state's guidelines? I'd love to hear about your high school planning!