Looking for a profound blog post to encourage and inspire? Well, this post is not it. At this moment, I should be working diligently on blog reviews and planning a menu. However, I am in the mood to just simply delight in my children and being their mom.
I have to say that I have some wonderful children. Perfect? Um, no. I know their parents. Trust me. Perfection does not live in our home.
I have children that have to sit next to a parent during church or the temptation to disrupt a sibling is too overwhelming.
I have a child who has an imaginary bug named Bluey that lives in the child's ear. Not only that but Bluey loves to play with Legos. Bluey's Legos are made from dirt; this is why I shouldn't clean the child's ears too frequently.
Children who want me to read. More. And more. And more. Little ones who savor a book no matter how many times you have read it. Two little ones who race to see who finds the mouse in Goodnight Moon first.
My girls who have become young ladies? Still can't resist a beautiful morning at the playground. Younger children want to play freeze tag? No worries. My big girls are right in the middle which always makes it more fun.
I love that Caleb sometimes misses out on impromptu trips to the park because nothing is better than going to work with dad.
I am not a morning person. Mornings are hard. But having a two year old who smiles and says "Good Morning, mommy!" as soon as she sees you, makes it worth it.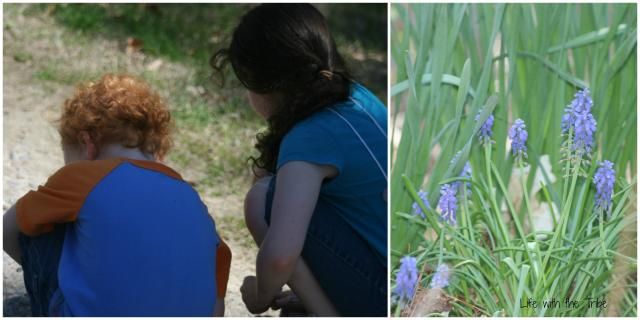 Laughter around the dinner table…laughter until you are almost in tears…might be one of the best ways to wrap a day.  Whether it is laughing over a terrible joke or the fact that someone had no idea there was desert in the US, laughter is a good thing. In case you were confused, a Corvette is not a musical instrument.
This could be an ongoing post. At times are raising these kiddos challenging? You know it. Do I go to bed some nights weary and worn from difficult days? Oh, yes. However, I am so thankful for them each and every day. They are delight and joy to my heart.
So my rambling is over. Enjoy the beautiful days of sunshine and warm weather. Enjoy your cute kiddos. Treasure their funny little sayings or imaginary bugs in their ears. It is going by fast……