As my children get older, I realize more and more how essential it is that they know what they believe and why. My desire is for my children to be able to communicate their faith and be able to have an intelligent discussion with others. One way that we handle sharing apologetics and bibilical worldview is through literary works.
For the high school years, Mere Christianity by C. S. Lewis is scheduled for reading and study. Home School Adventure Co. has a resource, The Mere Christianity Critical Analysis Journal, to aid in discussion of Lewis' classic work. I was pleased to bump Mere Christianity up the required reading list and utilize the Mere Christianity Journal with my older children.
What is the Mere Christianity Critical Analysis Journal?
The Mere Christianity Journal is a companion discussion guide to Mere Christianity by C. S. Lewis. Due to the content and maturity needed to understand and discuss Mere Christianity, the recommended age for the journal is twelve – adult. Parents may find that when using this journal with middle school age children, that it is best to walk through the text together. Young adults in high school and older should have no problem working through the journal independently.
The Mere Christianity Journal is presented in a simple, yet effective style. Beginning with the preface, the reader will work through the book a chapter at a time. A reasonable pace is about a chapter a week but if working with a student on the younger end, you may prefer a slower pace. The journal provides around ten questions for discussion per chapter. While some of the questions are straight forward and the answers clearly found in the text, other questions call upon the reader for personal reflection and thought.
"According to Lewis, is what is good for society a strong enough motivator to keep men from being selfish? Why or Why not? " Journal Question for Chapter 3
There are two options when you purchase the Mere Christianity Journal: a print copy or a downloadable PDF. We have been utilizing the PDF version. One of the benefits of the PDF version is that it is interactive. This means that you or your student, can type journal answers directly into the PDF and save it. For students who struggle with writing, this could be a benefit.
In the Preface of Mere Christianity, Lewis makes it clear that he will not be discussing matters of doctrine but just covering the basic principles that Christians agree upon. The Mere Christianity Journal agrees with Lewis and no one doctrinal stance is presented. The Journal is open ended in the sense that the reader, as they study the text, can apply their personal doctrinal beliefs to what is being discussed.
"What will happen when God openly and directly intervenes in our world?" Journal Question from Chapter 5, Book 2
How Did We Use the Mere Christianity Journal?
Initially, my oldest daughter (fifteen) was scheduled to read Mere Christianity this year. However, I decided to utilize the Mere Christianity Journal with my three oldest children. There was no doubt that my oldest could handle the study on her own but I felt having a group discussion with everyone would be a great way to really flesh out the text and our thoughts on the text. It was definitely the right decision as my twelve year old definitely needed someone to walk with him through the book and journal. The discussions we shared together as a group were fabulous.
The plan was simple: each week the children were to read one chapter from Mere Christianity and then work through the questions from the Mere Christianity Journal. Since I had three students working through the Journal at the same time,I simple uploaded it to a shared file so everyone could have access. Naturally, my writers chose to not use the interactive feature but use an actually journal to put their thoughts and answers. My son definitely preferred the interactive feature.
"I wouldn't want to read Mere Christianity without the Journal. The questions helped me to not miss important information in the chapters. I didn't get confused or lost in the reading." Mary, 14
We had a scheduled time once a week to meet and discuss. While we covered the questions presented in the Journal, they were often the source of deeper discussions. This was really beneficial in helping one of my children realize that the ability to articulate what you believe is so important. I misunderstood what one child was trying to express and it had me a bit concerned.This led to a later discussion with dad and discovered it was just an issue of not being able to correctly express what my child believe.
For those parents who chose to have their child work through the Journal independently, an answer key is available. Once you purchase The Mere Christianity Journal, you will be given information on how to get the answer key; free of charge.
Our Thoughts
My three oldest and I have thoroughly enjoyed working through the Mere Christianity Journal. My oldest daughter is working at a quicker pace than the rest of us. However, we still keep our once a week discussion.
"The Journal was really easy to use. I like that the questions were simple and to the point." Rebekah, 15
The Mere Christianity Journal is a valuable resource. It has been very helpful for me; especially when the week gets hectic. Even if my time to really dig in personally to the text has been limited, I don't have to stress about discussion time with the children. The Journal covers the chapters thoroughly and really make it easy to facilitate this time. For my children who are working through it at their own pace independently, it has been great at helping them to not miss key points and helped them to really think through the topics.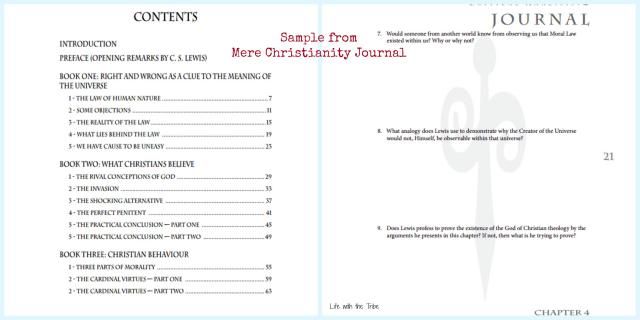 One cautionary note: C.S. Lewis does address topics such as: sexual morality and Christian marriage. These topics definitely require a parent to consider the age and maturity of the child when tackling these topics. For our family, discussion of these topics is appropriate for the age of the students working through Mere Christianity and the Journal. You may want to pre-read the chapters dealing with these topics if in doubt of suitability.
The Mere Christianity Journal can be used in a variety of ways. As we are, you can use it within your homeschool for apologetics and biblical worldview emphasis. The Journal would also work well for a homeschool high school co-op class or group study. You could also utilize the Journal for an adult Bible study or homeschool moms' book study. Of course, don't overlook using this resource for personal study and reflection.
Purchasing/Pricing Information
There are two options for purchasing from the Home School Adventure Co.:
Mere Christianity Critical Analysis Journal – Print Copy – $28.95
Mere Christianity Critical Analysis Journal – Digital Download – $18.95
You can learn more about the Home  School Adventure Co. and the Mere Christianity Journal by checking them out on Facebook, Twitter, Google+, and Pinterest.
The Home School Adventure Co. also has other resources such as: Philosophy Adventure, Philippians in 28 Weeks, and The Wise Woman. Fellow Schoolhouse Review Crew members review the above products and the Mere Christianity Journal. Take a moment to see what other reviewers had to say!