For the past several weeks, my children have been utilizing an online math curriculum. CTC Math provided our family with a 12 Month Family Plan to review and it has been well used. Five of my children, ranging from K level math to pre-Algebra, have been spending time with CTC Math and today, I'd love to share our experience and thoughts with you.

What is CTC Math?
CTC Math is an online math program that provides study for math levels from Kindergarten Math to Trigonometry. Within each level there are different Streams and within those Streams are various Topics. For example, in 5th Grade Math there are four streams: Numbers, Patterns, and Algebra; Measurement; Space and Geometry; and Statistics and Probability. If you select the Measurement Stream, you will find topics like: Time, Speed, Area, and Volume. The Statistics and Probability Stream would present: Chance and Graphs.

The math lessons are taught by Pat Murray, an Australian math teacher who has helped thousands of children with math. Mr. Murray teaches in a very simple and straightforward style that engages the student's attention. For the lessons, Mr. Murray is not on screen. The student sees the topics being discussed and problems being displayed on a white screen. There are no advertisements or other distractions for the student. The instructional time ranges from around 3 minutes to 10 minutes depending on the math level and difficulty of the topic.
CTC Math does not limit your child to one level of learning. Your child's math needs determine what level he would work at. Your child can easily move from 3rd grade math to pre-Algebra from day to day. This provides for review and mastery in weak areas and the ability to continue to move forward in topics where the child needs a challenge.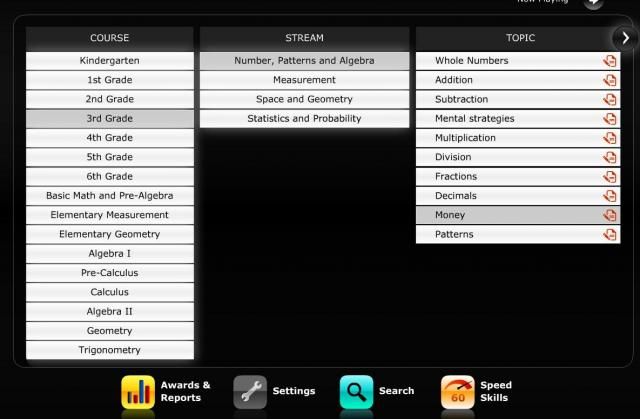 While CTC Math does not have a placement test for the overall curriculum, topics in levels up to Pre-Algebra do contain diagnostic tests. This allows the student to test in a certain topic and see if completing that topic is needed or if they can move ahead. The diagnostic tests can also be used after a topic is completed to "test" for understanding.
As the parent you can set what percentage you prefer to be a "passing" grade. CTC Math averages the three highest attempts and shows a shaded bar of the current percentage. Even your youngest students can see how they are doing in their studies. When a topic is completed, CTC Math awards certificates: silver, gold, or platinum. This could be a fun motivator for some students.
Tracking student progress is very simple and thorough as well. Once a week, CTC Math sends the parent an email with a link to a report of how students are doing. You can also view detailed reports for each student via the parent account. You will also receive an email sharing with you the certificate level your child has obtained.
How Did We Utilize CTC Math?
With the 12 Month Family Plan you receive five student accounts. (If more than five are needed, CTC Math is happy to open up the needed student accounts.) My oldest daughter who is currently in Algebra 1 does not do well with online math programs so I allowed her to opt out of using CTC Math. The five children I had using the program accessed the following CTC levels: Kindergarten, Third, Fifth, Sixth, and Pre-Algebra.
Each of these levels met various needs that my children had. For my fifth, sixth, and Pre-Algrebra student, CTC Math was used as a supplement or review to their current math studies. They worked on the same level of their current math text and were able to sure up some weak areas and gaps.
My third grader used CTC Math as a companion to her current math studies. The third grade text that was in use covered a narrow range of topics and CTC Math allowed Hannah to explore and learn other topics of math for her age/grade.
My first grader used the Kindergarten level as we have not officially started any math studies for her. CTC Math worked as her main math curriculum. It also was her first time working independently with a computer program.
When we initially began CTC Math, I worked along side my children to help decide which levels they would like to work in. The older three all wanted to use CTC Math as a review/supplement for their current studies. My pre-Algebra student especially felt she needed some reinforcement on a few areas before she tackled Algebra in a few months.
The program is very easy to navigate and the children were able to access their accounts and work independently. Due to some technical issues, we only had one computer available for the five to share. I would open up a tab with the CTC Math Student Login page and the children just rotated through as the computer became free. Even my five year old daughter was able to log in, find her topic, and view the lesson.
After they completed watching the lesson, they would click on the "questions" icon to complete the problems for that lesson. Higher levels, such as Pre-Algebra, allows you to print out the worksheet. However, my daughter chose to use a small whiteboard and complete the exercise without printing.
Our Thoughts
Overall, I think CTC Math is a great online math resource. Would I use it as full math curriculum? No, I would not. Pat Murray does a lovely job of presenting the information on a level the children can understand without talking down. None of my children complained about have to do CTC Math. This is a huge factor! However, if a child struggles with a topic, there isn't an optional video to view. If the child doesn't grasp the concept, it isn't going to be explained in a different way.
However, I love it as a supplement. The lessons are well done without being overwhelming. It has worked great to help fill in the gaps and encourage mastery in some areas. This has helped to build confidence in one of my children.
As a mom with eight children, I love the 12 Month Family Plan. I am not limited to a certain number of accounts or locked into one level. The flexibility CTC Math offers is wonderful. It was helpful that if a child was frustrated in Numbers and Pattens, they could easily move over to Measurements.
Two of my children found CTC Math helpful and "easy". They appreciated his short and to the point explanations. They were mainly using CTC Math as review, so I can understand how the topics were seen as easy. My youngest student said that CTC Math was "fun". She loved doing her lesson each day. One of her favorite parts is after a lesson was completed, it shows her the problems and which ones were right and wrong. She quickly learned what color her percentage bar needed to be and loved when it turned blue.
Then the last two children had very differing views. Hannah, 3rd grade, did not really enjoy CTC Math as much. She found that the topics were hard to understand and how Mr. Murray explained didn't really help her. She is a lot like her oldest sister and just doesn't do well with online programs.  Then my fifth grader, Lydia, loved CTC Math. She found it "easy" and Mr. Murray explained stuff "just like you, mom". It was helpful for her to see the lessons worked out as it was explained.
One final note..I appreciate that there are no games or outside links in this program. CTC Math is a well done online math course that presents the information clearly with no silliness mixed in. Children are motivated by a job well done. Love this!
Purchasing/Pricing Information
There are two options available for homeschool families: Single Student Plan and the Family Plan. Both plans allow for monthly, six-month or twelve-month purchasing. The more months you purchase, the greater the value.
The 12 Month Family Plan is currently available for $118.80; this gives complete CTC Math access to two or more students! (This is the current sale pricing at the time of posting.) You can view a breakdown of all pricing options to make the best choice for you family.
CTC Math also offers a Free Trial so you can see the program in action in your own home!
Many other families have been using CTC Math so stop by the Schoolhouse Review Blog and see how CTC Math worked for other families!