My children all share one common interest that is not limited by age: the desire to create masterpieces. Could I possibly turn down the opportunity to review one of ARTistic Pursuits wonderful art books? I couldn't! The younger ones and I have been enjoying ARTistic Pursuits Early Elementary K-3 Book Two: Stories of Artists and Their Art.  Creativity and learning are wonderful companions.
ARTistic Pursuits
ARTistic Pursuits is a company that provides art curriculum books and resources for preschool through high school. While the books were created for homeschoolers, these books can easily be utilized in group settings such as co-op classes or class rooms. This art curriculum is complete in that it not only covers hands on art projects and techniques but includes art history and art appreciation.
ARTistick Pursuits Early Elementary K-3 Book 2: Stories of Artists and Their Art
The Early Elementary K-3 Book 2 is one of a three book series. However, each book can be used independently. The presentation of the art and artist in Book 2 make it an almost open and go art curriculum. This is fabulous for those of us who tend to place art study on the bottom of the to do list!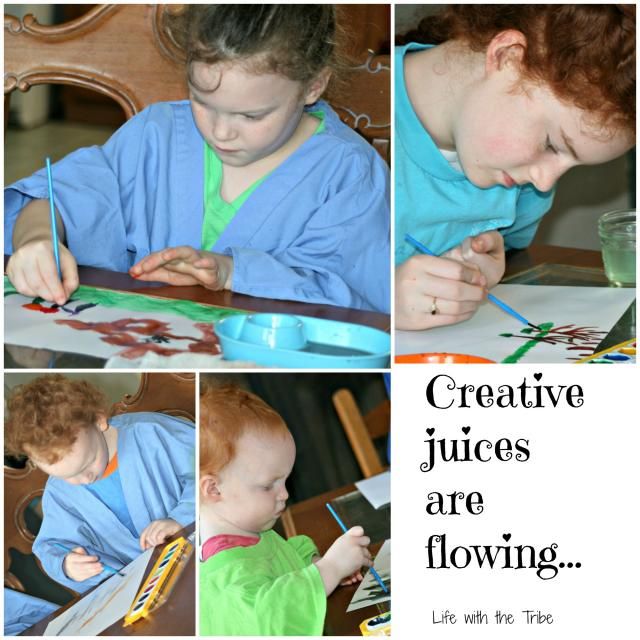 A materials list is included at the beginning of the book. One aspect that drew me to Book 2 was the simplicity of materials needed. Items such as watercolors, oil pastels, construction paper, and tissue paper were all supplies that we have on hand. If we didn't have an item such as an ebony pencil, it would be inexpensive to pick up. ARTistic Pursuits does sell the supplies needed for each book and certain brands are recommended for quality. Due to financing the artistic interests of eight children, we were content with the brand of supplies we had on hand and were still pleased with our results.
Book 2 Stories of Artists and Their Art contains 36 lessons that cover sixteen artists. Not only will your child learn about Giotto, Michelangelo and Bruegel, but she will experience working with oil pastels, printmaking, and watercolors. The time periods, if you desire to incorporate art with history, cover the Gothic Period to the Realist Period.
The lessons begin with a short artist biography that gives information about the life of the artist and the art he created. Along with the biography, extra information such as details about fresco painting or a Book of Hours is included.  Depending on the artists, one or two projects are included in the lesson.
Each project gives a clear list of supplies needed and simple, easy to follow instructions. For example in Project 6 (after learning about the Limbourg brothers), your child will do a Sketch to Watercolor. Three easy steps will bring your child's artistic abilities to life. Draw a scene with a pencil, paint what you have sketch, then fill in all the empty spaces.
How It Worked for Us
When I selected Book 2, although directed to the K-3 age range, I easily included my 5th grader in the lessons with my 1st and 3rd grade children. My 5th grader served as my handy assistant and honestly, she just loves the excuse to create.
Artist study is always included in my lesson plans but it also seems to be one area that I never seem to have time for consistently. ARTistic Pursuits has been a great help in encouraging me to keep artist study and art in with the core subjects. After the first lesson, my children were asking daily to do more. There is no recommended schedule but we found working with this resource once or twice a week flowed well for us.
Once the biography had been read, either that afternoon or later in the week, I would quickly grab supplies and we would complete the project. The children were diligent to really think of what scene they wanted to create. It was interesting to see all the different directions their minds would take them. Every now and then, even my older ones could not resist the projects and had to join in.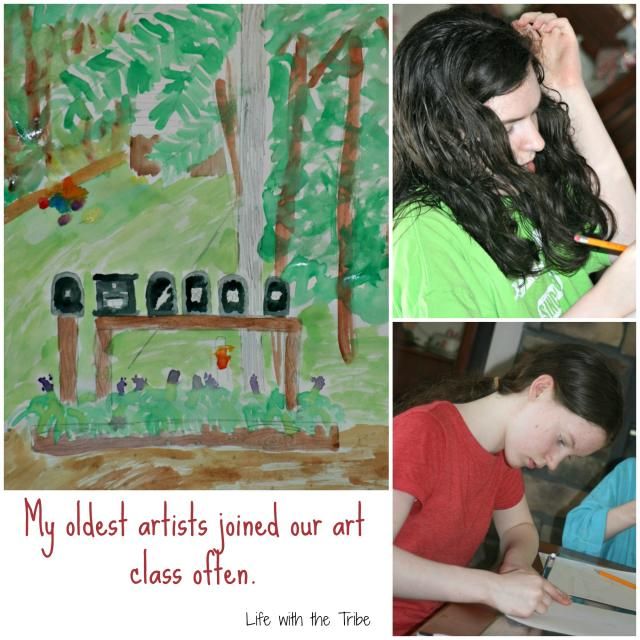 Our Thoughts and Experience
We absolutely loved Stories of Artists and Their Art. It made it very simple for me to incorporate art study into our week and this had definitely been a struggle for me. Even though I had three official students working through this book, the materials needed were not overwhelming for the budget. Flexing on the brand names of art supplies made this doable and all our projects turned out fabulous. For the future, I would definitely invest in a variety of sizes in our paint brushes.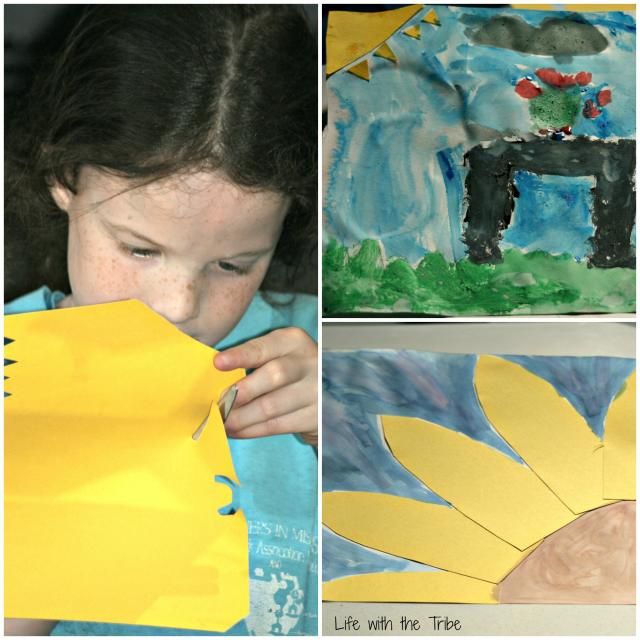 It was clear that the children enjoyed it as well. Hannah (8) read ahead on the artist biographies because she found them interesting. Sarah (6) asked to do school on our off days. She eventually admitted that she really just wanted to do art. Lydia (10), my handy assistant, happily supplied oil pastels from her personal supplies when I ran out of black. She wanted to make sure that everyone was able to complete the scratch art project.
ARTistic Pursuits Early Elementary K-3 Book Two definitely gets a thumbs up from the Tribe. Since it is non-consumable, I can use it again when my littlest ones are ready. This makes any budget happy!
Pricing and Purchasing Information
ARTistic Pursuits Early Elementary K-3 Book Two: Stories of Artists and Their Art can be purchased for $47.95. Sample pages are available for this book and others.
Various books from ARTistic Pursuits were reviewed by the Crew. If your child is not early elementary age, you will definitely want to see what others are saying about ARTistic Pursuits!