Sometimes in the busyness of homeschool life, we discover that we may be overlooking important aspects of educating our children. Things that are important to us, that we see as essential but for various reasons we have overlooked. In our home, that has been instruction and guidance in cursive handwriting. I was thrilled when I was asked to review Rhythm of Handwriting Cursive Complete Set from Logic of English. I love this company!

Last year I was able to use Logic of English's Essentials program with my children. It has made an amazing difference for two of my children. I was eager to see if the Rhythm of Handwriting would produce similar results.
What is Rhythm of Handwriting Cursive?
Logic of English supports the idea of teaching young children cursive before teaching them manuscript. One of the main reasons is because the "flow" of the cursive is easier for the fine motor abilities of young children. With this principle in mind, Rhythm of Handwriting Cursive can be used by ages 4 to adult. It provides simple, straight forward instruction that utilizes multi-sensory activities.
For this review I was sent the Rhythm of Handwriting Cursive Complete Set.This set included: Cursive Workbook, Cursive Quick Reference Chart, Cursive Tactile Cards, and Student Whiteboard.
Cursive Workbook – The student workbook also serves as the instructional guide for cursive. The workbook begins with information for the parent/teacher or mature student on how the program works.  A suggested schedule is given for students ages six and under; this has them learning one letter per day. For students 7 and up, there are three suggested schedules given depending on your students interest and ability.
Instruction begins with lowercase letters broken down by stroke style. You will begin with swing letters ( i, t, u, etc.) and progress through the other strokes (curve, loop, and bump). After completing a certain amount of letters, your student will then practice connecting letters to form words. For example, after completing the swing and curve strokes, you child will spend a few days practicing words such as: dad, tip, sap, quit. Once lowercase letters are completed, you naturally progress on to uppercase letters.
In the workbook, various sized lines are given for practice. This works well since often younger children write larger. It also provides the opportunity for future practice as the child matures in fine motor skills.  There is a practice sheet for each letter and then additional sheets for practicing all the letters in a stroke section. If you find that your child needs more practice or a bit different style of lined paper, Logic of English provides handwriting sheets for download in their free resource section.
Cursive Quick Reference Chart – This is a colorful, laminated folder style chart that can be used to refresh your student's mind on how a letter is formed. It shows each letter along with an explanation on how it is properly formed. It also reviews the different strokes and connection lines used in cursive.
Cursive Tactile Cards – These cards are printed on heavy duty, coated cardstock that provides excellent durability. There is a card for each lowercase letter, uppercase letter, and numerals as well. The "sandpaper" style of the letters are great for those students who need to feel how the letter is formed. Instructions on how to form the letter, the sound of the phonogram, and an example word are all on the back of the cards for easy teacher reference.
Student Whiteboard – The student whiteboard is 11″ x16″ and double sided. One side has a very large three lined area for handwriting practice. The other side provides five lines for handwriting practice.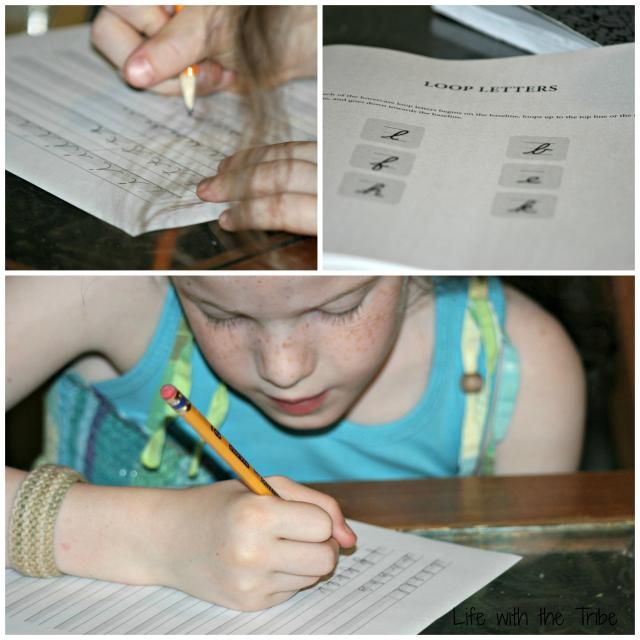 How Did We Use Rhythm of Handwriting?
My main focus was working with my 10 and 8 year old daughters. I had begun cursive instruction with my 10 year old but had not been consistent at all. We decided to learn two letters a day and moved along at a steady pace. While some of the letters were review for my oldest daughter, she was happy to get some extra practice. My eight year old daughter was excited to learn cursive and picked up very quickly on the different strokes. It was not uncommon to find them practicing cursive in between other subjects and I usually had to make them stop. They also loved turning the newly learned cursive letters into pictures. You just can't stop the creative juices, right?
I also used this with my 6 year old daughter. I wasn't sure if I was going to or not but she showed definite interest so I decided to run with it. She did not work at the same pace as her older sisters. We did about one letter every few days and it seemed a good pace for her. She did well and has enjoyed showing her dad the progress she is making.
In a more informal way, I also used Cursive with my 12 year old son. Like my 10 year old daughter, some cursive instruction had been given but never with consistency. Due to his scheduling in and out of the home, he worked independently with the workbook. Due to ease of use, this worked very well for him.
Our Thoughts on Rhythm of Handwriting Cursive
We found it to be simple to add to our day, effective in its instruction and practice, as well as enjoyable for the children. Their penmanship looked great without excessive practice and they could quickly recall the different strokes and such needed for the letters.
In the beginning, we used the tactile cards but found that they were not really necessary for the children. I kept the cards available for my younger one in case she wanted to practice on her own. I can also see them being beneficial for my younger ones when they begin to learn. However, it was not a necessary resource for my older children.
Surprisingly, my girls also preferred using our regular, unlined dry erase boards for practice. For them the lines on the student whiteboard were too large for them to write comfortably. Even my six year old daughter preferred using our unlined dry erase boards.
I chose to use the student workbook as my teacher guide/student reference and printed off the handwriting sheets from the resource section. This way I was able to give each child the sizing of lines they needed along with the style they preferred. We found that the shaded lines practice sheet worked the best for us.
Overall, we have loved this program. It has worked well for a variety of ages and abilities. It has been enjoyable and easy for the children to add to their day. I love seeing the beautiful penmanship!
Purchasing and Pricing –
The Rhythm of Handwriting Cursive Complete Set is available for $65.00. This includes the student workbook, student whiteboard, tactile cards, and reference chart.
For a family on a tight budget, $65 for a handwriting course is a bit steep. The complete set would not make the budget cut in our family. However, as you can see from how we used the program, adjustments can be made to make this course affordable. If you have a tight budget, you could easily purchase just the student workbook. With multiple students, you could opt to purchase the workbook or reference chart and utilize the free printable practice sheets.
While handwriting seems to be an easy, do-it-youself subject, for us it just wasn't getting done.Having Rhythm of Handwriting helped us to keep focused and moving ahead. I would definitely recommend it to others.
Other Crew Members reviewed Rhythm of Handwriting (cursive or manuscript), the Essentials program, and Foundations. Take a moment and see what others have to say.