Fire tornadoes, nails for breakfast, lava lamps, and Mentos fountains….intrigued? My children definitely were! Library and Educational Services provided us with two Go Science Series 2 DVDs to review: Volume 2: Life Science and Weather and Volume 6: Chemistry. These DVDs were the perfect way to learn and study science while beating the summer heat.
Library and Educational Services, a family owned company, provides resources for churches, libraries, schools, and resellers at wholesale prices. From science DVDs to literature, they have a wide range of products that any homeschool parent will appreciate.
Go Science DVDs
The Go Science DVDs are presented by Ben Roy along with his friends and helpers (children of all ages). The DVDs are divided into segments that last from three to ten minutes. Since these experiments were originally produced for a Christian TV broadcast, the segmented presentation makes it easy to view one or two experiments at a time.
"The videos were cool. I loved the experiments." – Hannah, 6
While some experiments are as simple at the "Naked Egg" (egg in vinegar) the majority of the experiments are ones that are not safe or conducive to at home experimentation. The Go Science DVDs provide the opportunity to bring these experiments right into your living room.
The Go Science DVDs are designed for ages 4 to 12 but individual interest will vary. We found that this age recommendation was right on target in our home.
"He made it simple. Weather cloud was my favorite and the fire one was cool. I don't think I'd watch it again unless I was going to do some of the experiments. But it was really fun to watch." Lydia – 10
The Go Science DVDs are presented from a Christian perspective. Ben Roy clearly points to the Creator as the hand behind science. If using a secular based science curriculum, using the Go Science DVDs can provide a bit of balance in perspective.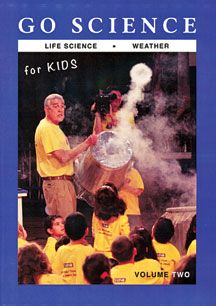 Go Science – Volume 2: Life Science and Weather
This was the first DVD that my children watched. It included experiments such as: How Much do Your Lungs Hold, Ping Pong Cannon, and Liquid Nitrogen Cloud. (My children would love to recreate the liquid nitrogen cloud!) Ben Roy, along with his helpers, presents the topic and chats a bit about it. Then he jumps right into the experiment explaining what he is doing as he goes. There is always an audience of children watching and interacting with Mr. Roy.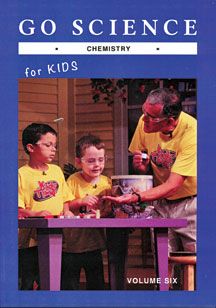 Go Science – Volume 6: Chemistry
After watching the Life Science and Weather DVD, my children were excited to watch Volume 6: Chemistry. With experiments such as the Mentos Fountain and Instant Snow, how could you not be interested? There has been a request for Mentos but I'm not sure I want soda exploding.
What Did We Think?
Overall, the Go Science DVDs were enjoyed by my children. They found the experiments interesting and definitely had favorites. One comment that a couple of my older ones (10 and 12) shared was that Mr. Roy's dialogue seemed "forced" or "rushed". My ten year old said that it was like he was trying to explain the experiment really fast. With the segments being short, it is understandable that Mr. Roy has to speak quickly but it did come across as him being tense.
For example with the Garbage Can Vortex segment, Mr. Roy seems a bit flustered as he tries to quickly perform the experiment. As he is directing his helpers, he appeared a bit frustrated that they were not always quick to do as he asked.
"The experiments were pretty cool. In some of the segments the children didn't really participate. Mr. Roy sometimes talked really simple; as if the children couldn't understand. I didn't really like that." – Caleb, 12
While it was a bit bothersome to me to have Mr. Roy rushed, it didn't cause issue with my children enjoying the experiments and wanting to recreate a few themselves.
How to Use Go Science DVDs
We chose to simple watch and enjoy the DVDs. However, there are many ways to utilize these DVDs.
*You could watch just the segments related to the science topic you are studying. If you are studying weather, viewing Liquid Nitrogen Cloud or Cloud in a Bottle would be a great choice. Studying nutrition? Naked Egg and Nails for Breakfast would be perfect!

*Want to spark interest in a new science topic? You can view a segment related to your topic and then let it encourage your child in further research and learning. Mentos Fountain would definitely get me interested in chemical reactions!

*Teaching a co-op class? The short segments of Go Science would work well to either introduce or wrap up a topic you have studied.

*Since these DVDs come from a Christian perspective, you can use them in your VBS or other classes in your church where appropriate.
Purchasing and Pricing Information
The Go Science Series 2 DVDs can be purchased from Library and Educational Services. You just quickly set up a customer account and you are ready to place an order!
Go Science Volume 2: Life Science and Weather – $8.97
Go Science Volume 6: Chemistry – $8.97
There are seven DVDs in the Go Science Series 2 collection. Each are available individually or you can buy the complete set.
Crew Members were able to select which two DVDs to review so swing on over and read what others are saying about Go Science DVDs!