This week I found myself enjoying a day at home with just my little ones; Sam (4), Martha (2), and Sweet Ezra. A rare occurrence and one I wanted to enjoy!
With no need to tackle Algebra, literature analysis, or diagramming sentences, the day was full of opportunity. What were we to do with ourselves? Take a walk and enjoy nature, of course.
It was really to serve several purposes, this nature walk of ours.  In an effort to get back into shape after Sweet Ezra, I have been taking walks (short ones). Having a little nature walk would count as my walk for the day. I also wanted Sam and Martha to get some fresh air and exercise because I knew we would all benefit from a nice nap in the afternoon. With our days getting hot quickly, a nature walk was probably the best choice. And a  nature walk is just fun and relaxing. I always enjoy seeing what aspect of Creation is going to catch the kiddos' attention.
Our nature walk turned out to be short and sweet. Sweet. I had three fabulous companions. Sam was Mr. Speedy and leading the charge. Martha was Miss Linger Longer. She was in no hurry. Ezra, well, he took a lovely nap in the Moby Wrap. We held hands, we found treasures along the way, and we discussed the strength of chains that were attached to dogs.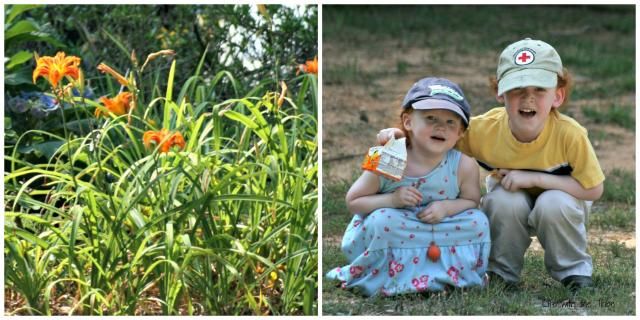 The walk was short, well, because we live in the south. We took our walk around 10am but it was already hot and humid with temps already at 90.. I will not lie….I do not like to sweat without good cause. A nature walk with little ones is not just cause for the amount of sweat we were producing.  However, we certainly appreciated the little break we took in the shade.
Sometimes short and sweet is perfect.