No matter what math curriculum your child is using in her studies, mastering the basic math facts is a foundational skill. Despite the importance of mastering math facts, the daily drilling of facts can become tedious and burdensome to your child and you. This is when resources like UberSmart Math Facts from UberSmart Software can be a valuable help to your family. My family was selected to review UberSmart Math Facts and a few of my children have been working on mastering those facts!

Addition, subtraction, multiplication, and division are the four basic math facts that are utilized through out mathematical studies. Mastering these facts and having fluency allow the student to focus on other areas of mathematics as they progress. The method of learning these math facts is consistent drilling. One of the easiest ways to drill math facts is through the use of flash cards: simple, straight forward and effective. UberSmart Math Facts has taken this simple method and made it computer accessible.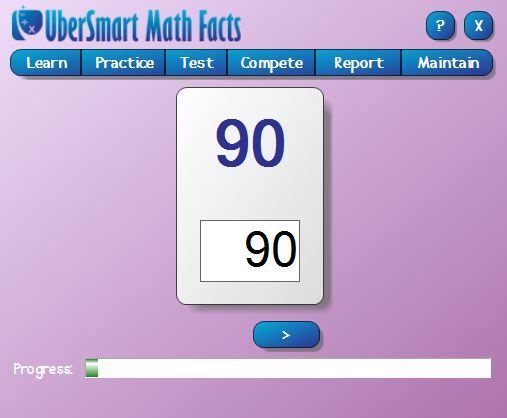 UberSmart Math Facts is simple to install and implement. After purchasing UberSmart Math Facts, you will simple download and install the program. Once installed, you add your students and are ready to begin. (This program is geared toward K-6 but can benefit any age needing review or reinforcement.)
If your child is very early in her math learning, you can start with the very basics: practice with keyboard entry and dot cards. The keyboard entry flash cards just present a number for the student to type in. This helps the child to become comfortable using the number pad and building basic speed. It does take a bit of eye/hand coordination to quickly enter the answers.
The dot cards are just that: flashcards with dots instead of numbers. Naturally more time is allowed for this level of drilling due to the necessity of counting dots. For your younger students this allows for a great visual instead of using numbers.
If your child is beyond the dot cards and comfortable with the number pad, she can take an assessment test to see where her weaknesses are in the math facts of addition, subtraction, multiplication, and division. This testing will show which function needs the most study. It will also tell if there are certain facts that need more work. When my daughter did the test, it revealed that she did well on her multiplication except for the numbers 9 and 4. This was helpful for us to know where to really focus her time with the program.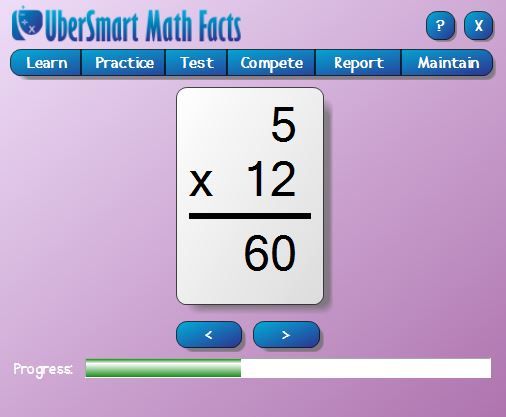 After completing the testing, when your child sits down to work with Math Facts, she can select which function she wants to drill. You can work on one set of facts at a time (such as adding 1, multiplying by 5, etc) or work on all facts.
Along with testing and practicing, your child can choose to compete. When competing, your child is racing against time to complete a certain amount of problems. This is a great option for working on speed.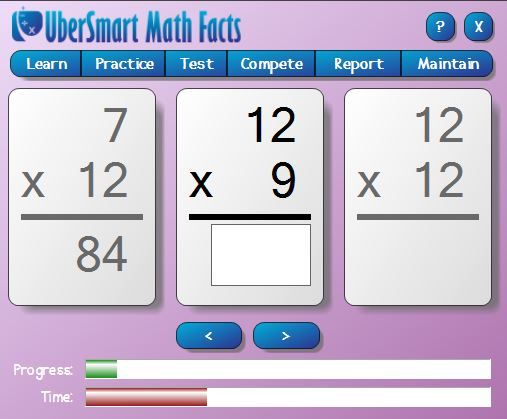 There are settings already in place with UberSmart Math Facts but you have the ability to make changes. You can increase the time required to enter an answer and you can expand the facts to 20 X 20 instead of the default setting of 12 X 12.
Since your child can use this program independently, the Report feature is very helpful to the parent/teacher. In the report section, you can see what facts/functions your child has been working on.  It will show you what your child has mastered and what still needs further review. You can also review the test assessment results as well. The report feature has a mastery chart that could also be used for visual encouragement for the child. This chart uses various colors of smiley faces to mark what has been mastered and what needs more work.
This program is very simple in presentation; there are no bells and whistles. When your child completes her session, there is the sound of applause and that is all. If your child needs some type of reward system to stay motivated, you will have to implement your own. There are no certificates, badges, games, etc to be earned.
Purchasing and Pricing
UberSmart Math Facts provides a 30 Day Free Trial so you can test the program before you make a purchase. It is the perfect amount of time to see if this method will be effective.
$24.95 purchases a family license that allows you to run UberSmart Math Facts on every computer in your home. This pricing includes free upgrades and support.
System Requirements: This program is for Windows ( XP, Vista, 7 and 8). A Mac version is not available.
Our Experience with UberSmart Math Facts
Three children in our home utilized this program; ages 11, 8, and 6.  The abilities ranged from beginner to one who just needed review and reinforcement. The girls used the program three – four days each week. I would assign to them certain facts within the four functions based on their abilities. Generally they spent about 10-15 minutes on drilling the facts.
I will say that this was not a favorite part of their day. However, it is one of those tasks that must be accomplished whether it is enjoyable or not. When my oldest was young, I can remember drilling her facts every evening. With multiple children now, it is a bit harder to be consistent with drilling the facts. UberSmart Math Facts takes over that task for me.
To help motivate my girls, I implemented a simple practice: completing their math fact drills earned further computer time. With five children sharing a computer, time on the computer is a precious commodity. The ten to fifteen minutes spent on mastery goes by quickly.
Since we have a family license, as other children are ready to begin learning math facts, I can simple add them to the program. UberSmart Math Facts is a simple, straight forward math facts program for an affordable price. A huge plus in this house!
Head over to the Schoolhouse Review Crew to see what others thought about UberSmart Math Facts and then give the free trail a try!