In my mind, this post was to be full of encouragement for busy moms finding time to dive into the Word. It is possible that I have attempted to write at least ten times today and have yet to complete a thought.
I would begin to type and someone would need help with math, or needed a word of encouragement to behave, or it was time for lunch, or the baby needed to nurse. I know, fellow mom in the trenches, that you understand.
I would come back to my post and have no clue where I was going with what was before me on the screen. My brain just couldn't pull it back it.
Now it is late night. Someone please explain why an almost three month old feels the need to fight sleep? I do not understand.
Let me share what my quiet time will look like in a few minutes. Oh, I read scripture with my children this morning. We had family Bible time this evening. However, I have yet to sit, read, soak in the Word on my own.
I have a hard time shutting my mind off to everything else going on today, tomorrow, next week. So I do a few things to help me focus. I am reading the same chapter for several days. To really help the words sink it, I copy the chapter. I do not copy it all in one day. I copy just a verse or two a day. Reading them, writing them, seeing them pop up on the page helps the words to stick in my mind. I find myself thinking of them throughout the day.
Since I finished copying James 1, I will move on to reading James 2 daily until I have it copied. I shouldn't be surprised at how it has helped me. I use to write my prayers because it helped my mind and heart to focus and not wander.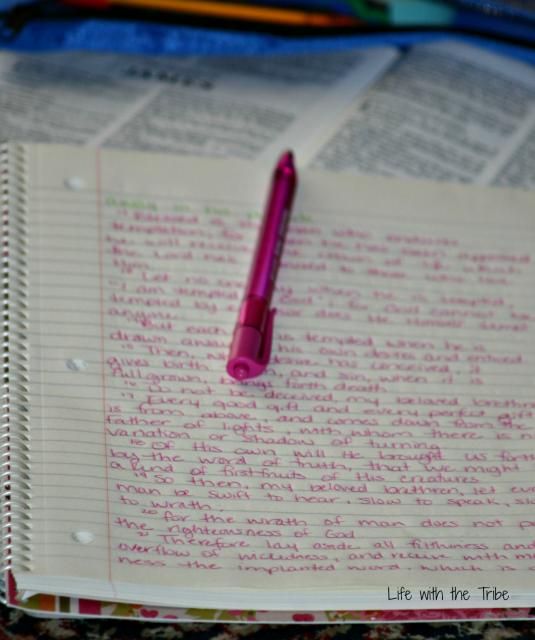 The Lord has used this so beautifully. As I am trying to balance the needs of various ages, deal with certain character issues, and keep my home running smoothly, I can easily feel overwhelmed and weary. I just wonder what do I do next? How do I help that child? Am I responding in a loving, kind way?
James 1 spoke to me as I read it again and again. As I wrote portions of it day after day.
"If any of you lacks wisdom, let him ask of God, who gives to all liberally and without reproach, and it will be given to him." James 1: 5
Wow. All those questions plaguing me? All that wisdom I am lacking? I just need to ask. God is waiting to give me wisdom. And not just a little bit of wisdom. He will give it to me liberally and without reproach. I need to remember to ask before I am overwhelmed, exhausted, weary, and worn. Why do I wait to ask?
"So then, my beloved brethren, let every man be swift to hear, slow to speak, slow to wrath; for the wrath of man does not produce the righteousness of God." James 1: 19 -20
Guess what happens when I feel overwhelmed and weary? I get snippy. I am quick to lose my temper. Grace has gone out the window.  Ah, the sweet reminder to listen first and then speak to those precious little ones. Take a deep breath, maybe ask for some of that liberally given wisdom and then speak, correct, encourage.
I will admit that I splurged. I bought myself a pack of colored pens and a pretty notebook. Just seeing those simple things make me smile. Beautiful tools to encourage me in my quiet time.
How do you have quiet time? What wisdom has the Lord given to you today?