This past week, when we picked up our books on hold at the library, we also picked up a little treasure. I can't remember where I read about Press Here by Herve Tullet but it caught my eye. Before I could even read it, it was already being enjoyed by some of my older kiddos.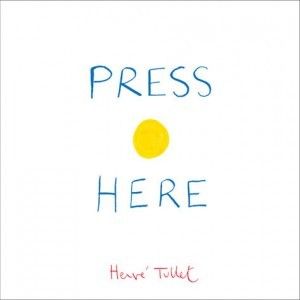 Press Here is a delightful, interactive book for your young readers.  As you flip through the books, you will see a range from one yellow to dot to a row of dots in red, yellow, and blue. Also on the pages are directions to follow. On one page you will have to press the yellow dot, turn the page and you need to gently tap the dot on the right. Shake the book gently, turn the page, and the dots are all mixed up! Sit the book up straight and the dots all fall back into place. If you clap? Wow! The dots get bigger and bigger as you clap and turn the pages. At the end what are you to do? Start all over at the beginning!
I caught my 11 and 8 year olds reading this book together and giggling. You can't help but enjoy the simplicity and creativity of this picture book gem. When I sat down to read it, all of the little ones came running and couldn't wait to participate. Simply delightful.
We were excited to know that HerveTullet has another book: Mix It Up. It is on order at my library and I am already on the waiting list to check it out.
If you have preschoolers and toddlers, you do not want to miss Press Here. I think I might have to go enjoy it with my little ones again!
What gems have you found on the library shelf?