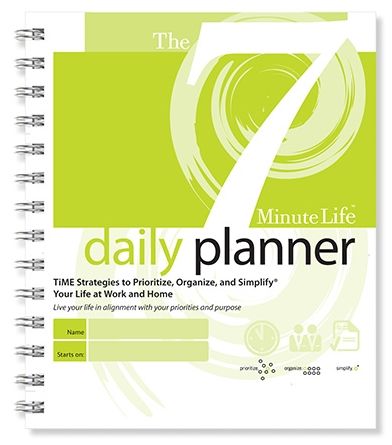 Prioritize. Organize. Simplify. Who wants to chant that with me? Three simple steps to making life easier and more productive. How can I (and you) streamline that process and make it happen as painlessly as possible? The 7 Minute Life Daily Planner from The 7 Minute Life is a tool that I have been using for the purpose of review over the summer. This planner might just be the life management tool that can help you prioritize, organize, and simplify. It can work for any adult who needs a bit of help getting organized and being productive. Let me tell you about this planner and my experience.
Calendars. To do list. Messages. Goals. I don't know about you, but my desk is a continual pile of lists. Small pieces of papers, sticky notes, notebooks, and calendars. I am organizationally challenged. I get weary of forgetting what I did yesterday and what I need to do tomorrow. It seems like I am always searching for that *perfect* planner that will bring my desk (and mind) to order. With a bit of tweaking, The 7 Minute Life Daily Planner is helping that happen.
What is in The 7 Minute Life Daily Planner?
You can view more videos at The 7 Minute Life
The 7 Minute Life Daily Planner is a 7.3″ X 8.5″, spiral bound planner that contains information and tools to help you bring together your priorities and life. Here is a brief overview:
*The first several pages walk you through what each of the different pages/areas are for and how to best utilize them. While you might be tempted to just glance and go, it really helps to read these pages to best implement this system.
*You are encouraged to rank a list of values that will help you see what truly matters to you in life and to discover your purpose. There is even a page to write out your purpose and how you know you will have fulfilled it in later life.
*Once you know what is important to you and your purpose, it is time to evaluate your strengths and weaknesses. This isn't an intensive project. A simple worksheet that allows you to jot down: what you love to do at work, strengths, and how you like to be rewarded.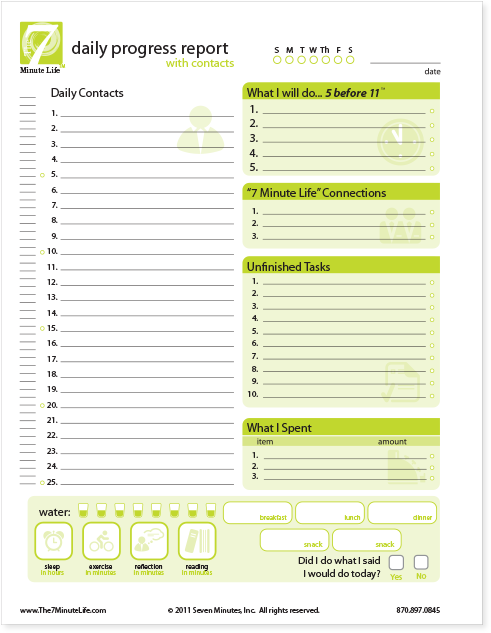 *Mental Clutter. A place to just unload your mind. Ah. What a relief to get all those random thoughts and tasks out in one spot to be dealt with later!
*90 Days is a great time length to check on how you are progressing at goals. The 7 Minute Life Daily Planner gives you forms to set 90 Day Personal and Work Goals. You list your goal, action steps to get there, and what the outcome was.
*Do you have unfinished tasks? Yes, so do I. It is nice having places to list out unfinished tasks for the home and work. So easy to refer back to as you continue to plan and live.
*Quarterly/Yearly Overview/Planning. Plenty of space is giving to glance over the year ahead and do some advanced planning. Monthly Calendars allow for scheduling major events coming up.
*There are even Meeting Planner pages that help you to think through concept, desired outcome, and action steps.
*Then there is what I believe to be the key to this planner: Daily Progress Report. This two-page spread has a place for everything to keep you on track. It contains daily contacts, What I Will Do…5 Before 11, Unfinished Tasks, Appointments, places to track water, exercise, meals and even what you spent that day. Mental Clutter Management. Beautiful!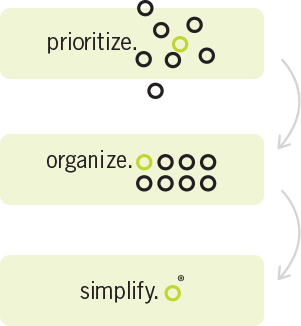 How The 7 Minute Life Daily Planner Worked for Me
When I first saw this planner, I thought, "I'm not in business. Compared to other moms, I'm not even really that busy. I don't need any planner like this!" However, knowing how I was struggling to manage my days with homeschooling and mothering nine children, running a home, blogging, reviewing, and trying to get in shape, my husband encouraged me to give it a try. I will be honest in saying that it hasn't been easy for me, but I do think this planner is helping.
The beginning steps of the planner, I didn't really feel were helpful to me. I already knew what I valued and I am clear on what my purpose in life is. I still read through those and jotted down some thoughts. The biggest hurdle for me was finding how to make this planner work for me. It was a matter of acknowledging that homeschooling is my job and so is blogging and reviewing. With that cleared in my mind, jotting down Unfinished Work Tasks was simple. I set one page of Unfinished Work Tasks to become Blogging Topics. Unfinished Home Tasks was the perfect place to jot down organizational tasks that were needed or areas I discovered through out the day that needed more work.
I did some tweaking to the Daily Progress Report as well. I am working on updating our daily schedule and lesson plans for the children. I used the Daily Contacts to keep track of what work I was covering with different children. This has helped me to see what learning areas get overlooked or what child isn't getting the attention they need in certain areas. Once I have our day a bit more streamlined, Daily Contacts will be used in a different way.
The appointment section is working great for me at tracking my time nursing the baby and when he is napping. I don't worry about losing slips of paper and I am seeing a natural rhythm to his day emerge and that will help with the streamlining I mentioned earlier.
If I get busy and distracted, I don't have to worry about remembering what I have eaten or how much water I have consumed. There is a spot for me to quickly mark these down in my planner. My physical fitness is an important area to me right now and so I appreciate being able to easily keep track of this small bit of information.
Since I don't have much communication via the phone, I use the Voice Mail section as a Prayer Request list. As people come to my mind or I hear of a prayer need, I can jot it down and don't have to worry about forgetting.
I am still tweaking and changing how I use this planner as I continue how to view my "job" differently.. It has been a helpful tool as it provides a place for me to drop all my mental clutter, thoughts, and plans down in one spot. The 7 Minute Life has helped me to become more aware of my time and how I am using it. Even something as simple as being able to find the list of books I wanted to take a look at is so helpful. I know exactly where to find it!
Pricing and Purchasing Information
The 7 Minute Life Daily Planner is available for $24.95. This planner is not predated so you can choose your start date!
A Few Final Thoughts:
Surprisingly, I have enjoyed having The 7 Minute Life Daily Planner. I know that I can utilize this planner even better as I continue to work with it. It would be nice if there were an option to have a version of the planner that is customizable as far as the Section Headings in the Daily Progress Report go. Perhaps that would interfere with the effectiveness of the system. For me personally, I would prefer to be able to write in "Prayer Requests" without having to mark through "Voice Mail". Visually it makes the planner look cluttered or messy to me.
It is very durable. Laminated cover pages protect the outside and sturdy spiral binding hold it all together. It has held up well to my two-year old reading it. Yes, this planner caught my daughter's eye and it is one of her favorite books to "read".
If you need help in prioritizing, organizing, and simplifying life, take time to check out The 7 Minute Life Daily Planner. You can even print out a few of the pages to try it out and get a feel for how this planner could help you! Also see how other TOS Crew Members used The 7 Minute Life Daily Planner.