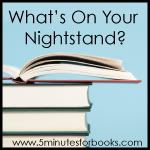 Oh, the plans I had for my reading in September. We all know how that goes. I did do some reading and this is a beautiful thing!
I finished up Harry Potter and the Order of the Phoenix, Harry Potter and the Half-Blood Prince and also read Harry Potter and the Deathly Hallows. After not really wanting to start reading the Harry Potter series by Rowling, I'm very glad I did for a variety of reasons. Whenever I can share literature with my children, a connection is made that will be there through the years. The older girls and I have enjoyed reading and discussing these book together.
The Great Trouble: A Mystery of London, the Blue Death, and a Boy Called Eel by Deborah Hopkinson was a children's novel I enjoyed reading a bit each night before bed. After reading The Ghost Map, The Great Trouble was mentioned to me by Amy from Hope is the Word. The Great Trouble deals with the cholera epidemic in 19th century London from a young boy's perspective. This books presents a picture of this time period that allows readers a glimpse of important events and people during this epidemic. It also provides a nice starting point for further study and investigation. I will be handing this down to my middle children to read as it falls in nicely with our history studies.
The Narnian: The Life and Imagination of C. S. Lewis by Alan Jacobs is still in my stack of books. I am struggling with this read and I am not sure why. I am going to keep plugging away at it. Perhaps my sleep deprived brain is having a challenging time digesting this one!
For October, my plans, hmm, hopes are to:
*The Narnian – Alan Jacobs

*The Confession – Robert Whitlow

*Frankenstein – Mary Shelley

*Attributes of God – A. W. Pink
I think I will leave my list at that.
Naturally, time has been spent reading aloud to the kiddos and I'll share about that later this week, hopefully!