Fresh air. Sunshine. Cool breeze. I am trying to be more diligent at making sure the children have plenty of time outdoors. I can easily get wrapped up in checking off the list and push the great outdoors to the bottom of the list.
Kids need to run, climb, and skip. Exploring, imaging, creating outside is a beautiful and important job for kiddos. Enjoying creation helps them appreciate the awesomeness of our Creator.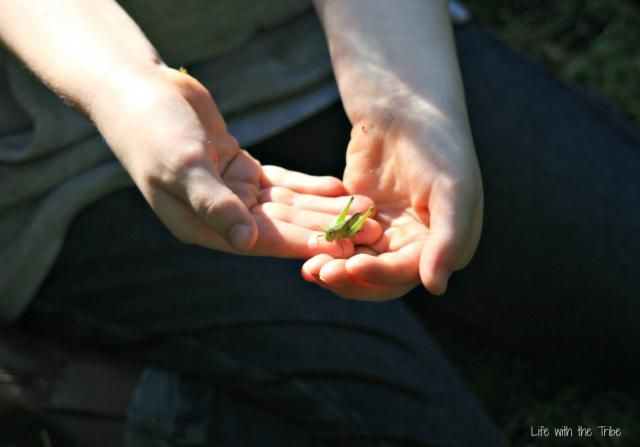 We have enjoyed catching grasshoppers. Ok, they enjoyed it. There are still aspects of nature I appreciate from a distant. Bugs is one of those aspects. However, my little ones were enchanted with this gentle grasshopper that willingly sat in their hands. Mr. Grasshopper seemed to be in the mood for a bit of conversation.
Another afternoon, birds, really cute birds, made a nest in my front yard. It was fun to watch them work together and play together. I love seeing Hannah take a leadership role and helping the younger ones out. The birdies slept, ate, and had a bit of exercise.
So a reminder to you and to me….step outside. Take a deep breath. Take a walk with the kiddos. Join in with jumping rope. (They will love it and they will laugh. They will be amazed at your jumping skills.) Jump in a pile of leaves. Watch a snail parade. (Warning: it is a slow procession.) Let them run in the rain and if you dare, join in.