I love, love, love that we are falling back into our read aloud groove. Is it always easy? Not so much. Do I sometimes sacrifice a bit of schoolwork for that time? Yes, yes, I do. Today was beautiful example of how I have to push through and purpose to not let reading aloud get bumped down the list.
Our morning, for some reason that I can't figure out went from running smoothly to running behind. Then my Mr. Happy became Mr. Fussy Pants. I really needed to get grammar covered with Lydia and Hannah. Mary had a bit of writing I need to read and enjoy. Then there is that pesky Algebra to discuss. Those little people? Yes, they wanted lunch and they wanted it now. Hey! so did I!
No worries. Grammar will still be there in the afternoon. Writings and Algebra will be there as well. I got food on the table, rolled the office chair into the kitchen (most comfy nursing spot for this short momma), cuddled up with the little one, and read. Reading aloud is so refreshing for me. It was just what I needed to get our day flowing well again.
Enough of that rambling! We had quite the full basket this month. I have selected a few favorites to share.
Chapter Books/Children's Fiction Novels
* The Magician's Elephant (Kate DiCamillo) was finished up at lunch time today. This wasn't a planned read aloud. My daughter found it at the library and thought my middle daughters would enjoy it. I opted to pre-read it and I am so glad that I did. Not because of objectionable material or mature topics, but The Magician's Elephant was a simple, beautiful story of a young boy's heart led to believe his sister is truly alive. A magician, an elephant, a policeman, a beggar and a few more characters help Peter. The mood and atmosphere of this book is cold, dark, and dreary at times. However, hope, the impossible….is always just ahead. We have enjoyed this as our lunch time read aloud.
* Lawn Boy (Gary Paulsen) was a relatively quick read that a dear friend of mine said that I must read to my children. Like the good friend that I am, I did just that. I read it and my children loved it. There was much laughter as we read about the Lawn Boy who went from having a long, boring summer to become quite the entrepreneur; all thanks to his grandfather's old riding lawn mower. This is more than a light hearted summer tale. Stocks, business management, supply and demand….this a fun way to discuss a bit of economics with your children. However, we are all wondering, what was Lawn Boy's name?
Up next? The Wednesday Wars by Gary Schmidt. I have already read it and to appease the masses, I am going to read it aloud.
Picture Books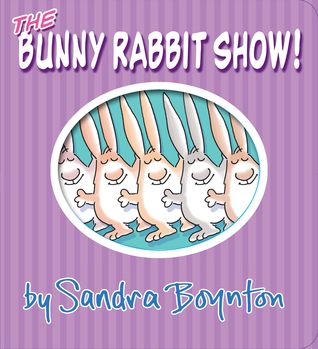 The Bunny Rabbit Show is the newest board book from Sandra Boynton. Mrs. Boynton's works have been a favorite in our home for years. My oldest ones read to my younger ones now with same tone and rhythm that I have read them over the years. I don't think we even need some of the books anymore. The Bunny Rabbit Show did not disappoint. Ten terrific rabbits all in a row but on quite an entertaining show. Martha, 2, often grabs the book and reads (or sings) it on her own. Just plain singing fun!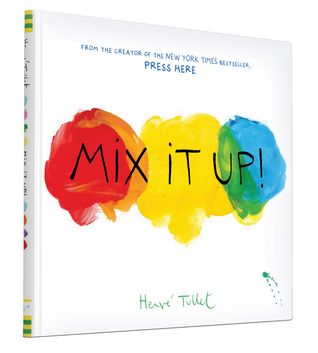 Mix It Up (Herve Tullet)is another favorite of my younger two; especially Martha. The concept of mixing colors is so very simple but so very fun when it becomes interactive. A tap here, press the pages together there, close your eyes and count to five….just a few of the ways to mix it up! I love that the pages are nice and thick to stand up to little hands and the smooshing and shaking they do to mix it up. Best of all, at the end, you of course must go mix it up and explore colors yourself!! We haven't yet but I did pick up new paints so we would have all the colors and a few new brushes. Now to mix it up!!
Bang! Boom! Roar! A Busy Crew of Dinosaurs was a surprise favorite. I'm not sure who pulled it off the library shelf but this has been quite the hit. Rhyming text that highlights each letter of the alphabet sets a fun pace for this construction site story. The pages are full of all kinds of action on the site and kiddos will love the ending. Just what were those dinosaurs building? If that construction site wasn't excitement enough, at the end you are given a list of items to hunt for in the pages of the books. Plain and simple fun!
Telephone (Mac Barnett) takes the childhood game of Telephone and sends it to the birds on a telephone wire. It all begins when Peter's mother asks a fellow bird to tell Peter to fly home for dinner. As the message travels along the telephone line with a few unexpected birds (have you seen a turkey on your telephone line?) that message gets just a tiny bit distorted. Thankfully, wise old owl was at the end of the line and Pete just might make it home. A fun read enjoyed by all. It was not uncommon to hear kiddos tossing quotes from the book around.
And I have even more I'd love to share.  I think I may need another post.
What have you been reading aloud?