There are some things in life that require practice. From riding your bike around the block to mastering math facts, it is going to take practice. IXL is here to help. While IXL can't help with balancing the bicycle, using IXL's Math and Language Arts Online programs can offer help for math facts and more! We have been able to review both of these online programs from IXl for the past several weeks.
What is IXL?
IXL is an online program designed to provide practice in math from Grades Prek-12 (highest level of math is pre-calculas) and language arts for children in Grades 2-8. IXL follows state standards for schools in the US. The language arts portion will be expanding to include ninth and tenth grades soon. For international users, the math portions will present information such as money for the appropriate country. The language arts portion is for English only.
You can learn more at IXL Help Center or check your State Standards.
IXL is also available for iPad and Android devices.
How to Use IXL
Using IXL is very simple and my children used it independently from day one. Since this is an online program, there is nothing to download. You simple log in and begin practicing! There are two ways for a student to select an area to practice. Selection can be made based on grade or by topic. Which one you choose depends entirely up to you! If you have a child working right at grade level, then selecting practice areas based on grade would probably work well. Perhaps your child is above or below grade level, then selecting by topic would offer the opportunity to work on the weak areas regardless of grade level.
Once your child selects an area to work on, she simple answers the questions one at a time as they appear on the screen. If the answer is correct, immediate feedback of "excellent" or "great job" will flash on the screen before the next problem. If an incorrect answer is given, a solution will pop up instead. Since IXL is designed to be used as supplementary practice, the solution given is brief; not extensive or indepth. After being shown the solution with a short explanation, the child is once again back to answering questions.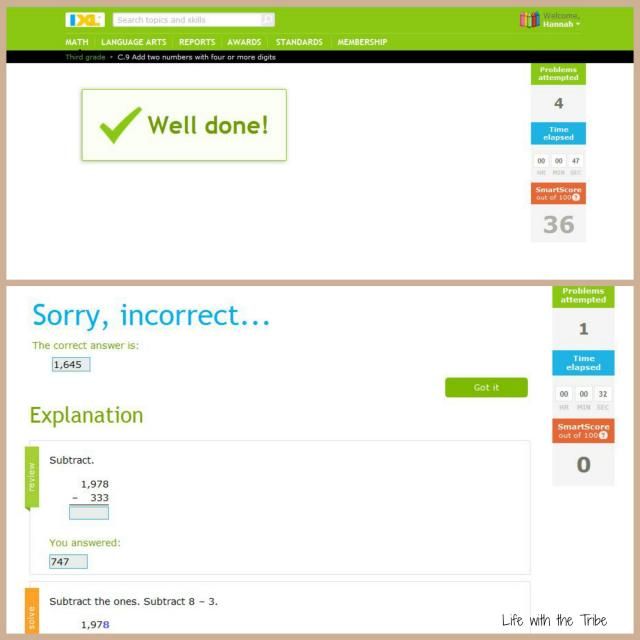 As your child uses IXL, she can see how long she has been working and how many problems were correct. As the child meets certain criteria such as 100 problems completed, a virtual prize is won. In your child's profile, she can see a game board. As progress is made on IXL,  the game board fills up with these virtual prizes. There are also question marks on the board that tell your student what else needs to be accomplished to get the next virtual prize.

While the virtual prizes serve as encouragement and motivation to progress, completion certificates are also awarded. The certificates are printable and could be included in a portfolio or record of the child's work.
Another feature of IXL are the reports available for parents. IXL offers reports that show parents how much time was spent, what area the student was working on, progress that is made, what areas need more work, and more. The reports provided by IXl are thorough and I love that! Accessing the student reports is easy and the presentation makes it very simple to check how your student is doing.
IXL also sends out weekly emails that tell you how your students are doing. This is very helpful especially when you have more than one child using the program independently.
Pricing Information
IXL provides monthly and yearly subscription plans.
For one student is it $9.95 (one subject) per month or $15.95 for both math and language arts. You can add additional students for $2 per month.

The yearly subscription option is $79 for one subject or $129 for both math and language. Additional students can be added for $20 per year.
How Did IXL Work For Us?
Four children in our home have been using IXL ranging from 1st grade to 7th grade. My first grade student worked only with the math portion of IXL but the other three students utilized the language arts section.
"I like it. I liked picking what I would do unless it was too hard." Sarah – 6
My first and third graders used IXL almost every day while my older two only used the program about three times a week. During the morning, they would rotate through their computer time and spend about 15 – 20 minutes working. We took a laid back approach with IXL.  I allowed them to decide which areas to work on with me occasionally pointing them to a specific topic or area of weakness. I showed them how hovering over a topic would pop up a sample question so they could judge the difficulty. It has worked out really well.
"I liked the prizes and I always want to see more of them. I don't liked being timed. But it was ok." Hannah – 8
The virtual prizes were really motivating for three of my children. They were very eager to see what else would show up on the game board. My seventh grader wasn't as impressed with the game board. His motivation was just getting his daily work done (which included IXL) so he could move on to other computer activities.
"I enjoyed it alright. I liked having the virtual prizes. I liked it keeping track of how many problems I was getting right and how long it was taking me. I didn't like how it didn't teach when you got something wrong." Lydia – 11
As a parent, there are a few things I really appreciate about IXL.
 Reporting that is thorough and easy to access and understand
 No extra games to distract the child
 Easy for even the youngest learners to use independently (IXL will even "read" the questions by clicking on the green sound icon)
Final Thoughts
I think the key to remember is that IXL was designed to serve as practice and review; not to be used as a complete curriculum. It serves this purpose well and in a very simple, straight forward manner. If you are looking for bells and whistles, you will not find that with IXL. I love that. If you need a source for independent review for your student, IXL might be what you are looking for.
While my family's use of this program did not include the higher levels, other Crew members were able to use the high school portions. If you want to get a feel for how others used IXl, head on over to the Crew Blog and check it out!