Oh my! I didn't even realize that it was time to share our nightstand offerings. So, let's get to the books because I have had a lovely literary month!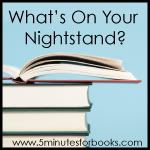 I have been doing reading from the nominations for the Cybil Awards and have found some treasures I would have missed. Reading those selections caused me to read other books by the same author. Well, there are books everywhere.
Finished Reads:
Countdown – Deborah Wiles – Book 1 of the Sixties Trilogy – I can't say that I have read many children's books that deal with the Sixties. Wiles presentation of life during the Cuban Missile Crisis is excellent and does the job well. I thoroughly enjoyed reading Countdown and it is on the "To Read" list for my children.
Revolution – Deborah Wiles – In 2 of the Sixties Trilogy, Wiles tackles 1964 and the Civil Rights Act. Three characters help us to see this time in history from different perspectives and you are quickly drawn in to the story. I am looking forward to the the third book.
Every Little Bird That Sings – Deborah Wiles – Years ago I read Love, Ruby Lavendar  aloud to my children. I never realized that Ms. Wiles has written two other books sets in Aurora County. With a main character named Comfort who lives in a funeral home, how could it not be a great book? While this is a children's book, I think it tackles the challenging topic of death in a great way to bring about discussion. It also brings in handling challenging family relationships and changing friendships. This Little Bird is slowly making its ways from room to room in our home.
Nest – Esther Ehrlich – There were bits and pieces of this book that I didn't particularly enjoy. But the overall theme, feel, undercurrent of the book kept me reading and overlooking the bits and pieces. It could be difficult for some children to read; you definitely have to be aware of the sensitivity of your child. The picture this book paints is painful at times and bittersweet in the end.
Breakfast Served Anytime – Sarah Combs – I'll just be blunt…..I was not impressed at all. I finished it because I hate to leave a book half read.
Rose Under Fire -Elizabeth Wein – I can't remember where I heard of this book first but saw it recommended in a few places. This was a fabulous, sometimes emotionally hard, read. When my girls are studying World War II, this will be on their reading lists. Well done.
I Kill the Mockingbird – Paul Acampora – You must read this! Just simple fun and delightful. My oldest daughter kept sneaking this one from me when I wasn't actively reading. This can work in two ways: 1 – Reading this book will make your avid reader smile with all the various references to other books or 2 – Reading this book will challenge your reader to go read books mentioned so he isn't missing out. It was a quick read but I really loved it.
In Progress –
The Night Gardener – George Pelecanos – I'm only a chapter or two into this read. Hoping it is as enjoyable as the reviews I have read!
Hannah Coulter – Wendell Berry – I'm sneaking around the house grabbing a moment or two to read this one throughout the day. This has quickly drawn me in. I would love to curl up in a comfy spot and just savor it. I don't think that is going to happen so I'll keep snatching moments here and there.
Why do I feel as if I am forgetting a book or two?
I'm not even going to attempt to plan ahead on December's reading. Life gets a bit crazy this time of year! I am being encouraged to read a bit of Poirot by my daughters. I may cave to the peer pressure.
What have you been reading?