For the Newbery Through the Decades Challenge the 1920s, I selected the 1928 award winner: Gay-Neck: The Story of a Pigeon by Dhan Gopal Mukerji. In hindsight, I think I should have spent a bit more time reading reviews of the book titles that interested me. I was quick in my selection of Gay-Neck so that I could get it from the library as soon as possible. Now, January has ended and I have not completed reading Gay-Neck.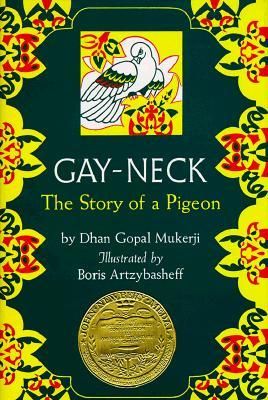 This story of Gay-Neck was not what I was expecting. When I read that it was about the training of a carrier pigeon and its service during World War 1, I was expecting a more exciting and engaging read. The book was more nature focused than action. This unexpected style or presentation threw me.
It also didn't help that my reading time in January was not plentiful so I didn't have much time for Gay-Neck. Since I could only read a little bit at a time, that seemed to be even more challenging to really dig into the story.
I do hate to leave a book unfinished so I am going to press onward and try to finish it. I really would love to know what criteria the judges had that year for the Newbery Award. I have previously read a couple of selections from the 1920s Newbery Awards: Smoky, the Cowhorse and The Voyages of Dr. Dolittle, Both of these were read alouds for us and both were enjoyed immensely. I don't think I'll put Gay-Neck: The Story of a Pigeon on the read aloud list.
Now…on to the 1930's! The choices are plentiful!