Before we ever had any children, we made the decision to homeschool. Several reasons lead us to this choice and we have never looked back. Even though we are firm in our decision to homeschool, I still enjoy researching, learning, and staying informed about what is happening with other methods of education. When the opportunity to watch and review IndoctriNation: Public Schools and the Decline of Christianity in America from Great Commission Films became available, I  was happy to do so.
IndoctriNation: Public Schools and the Decline of Christianity in America
This documentary follows Colin Gunn, homeschool father of seven, and his family as they travel across America to learn about the beginnings of American public education, the influence it has on families, and what role should Christian families play in the American public education system.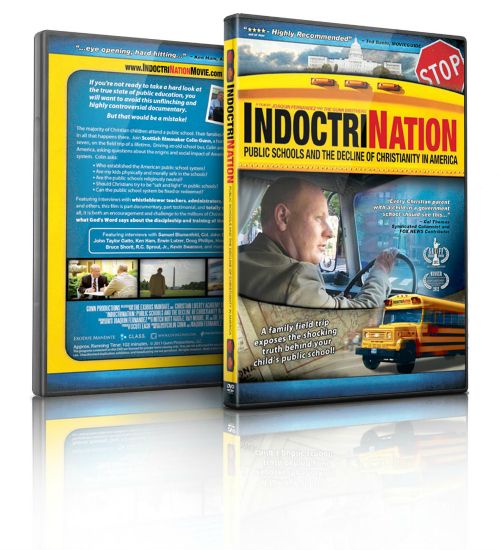 Throughout his travels, Mr. Gunn interviews and talks with a wide variety of people who are directly related to the public education system. From former teachers to those well known in the educational field such as John Taylor Gatto and Samuel Blumenfeld, we begin to see the steady decline in the educational system as stories and experiences are shared.
You can see the participants in interviews at the IndoctriNation website.
Some of the questions looked at are: What is the agenda of the public school system? Is it a neutral ground for learning? How does this affect our children? What type of education are our children receiving? Do we, parents, know what is happening inside the classroom? Should my child be in the public school system?
My Thoughts on IndoctriNation
When I received IndoctriNation, my original plan was to watch with my older children (ages twelve and up). Due to discussion of mature content or sensitive topics, I didn't feel it was appropriate for my younger children. At this time, I have viewed it alone and will have my older children watch it later. Having previously viewed it, I look forward to excellent discussion with my children.
As I began watching the documentary, I was at a bit of an advantage. There are some people that worked on this project that I know personally so I knew the direction it would go. As you watch IndoctriNation, there is clearly a stance taken that the American public school education system is not the place for our children to be educated. Government run/controlled educational systems are going to teach (indoctrinate) our children with their agenda. This thought just makes sense. Why would a system teach anything other than what it believes or supports? If the school is run by the government, then the government is naturally going to put forth what it wants taught. Neutral learning ground? How could it be?
The documentary presents a broad look at public education. It covers the history of public education, experiences of retired teachers, and what is being taught in schools today. I enjoyed the conversations with Samuel Blumenfeld and John Taylor Gatto. Mr. Gatto, former Teacher of the Year, has much experience inside the classroom and seeing firsthand how this method of education is not effective. Samuel Blumenfeld has spent years looking at how education is failing our children in terms of literacy and learning. I would have loved for more interview time with these two gentlemen.
Overall, I enjoyed IndoctriNation. Was it helpful to me? As a family who made the decision to homeschool, this was not an aid in making a decision regarding the education of our children. However, I found it interesting and engaging and thought provoking.  The American public education system is the educational home to a future generation. That will have impact on my family in many ways. I think it would be a mistake for the homeschool population to ignore what is going on behind the walls of public education. Public education is also funded with our tax dollars so we should be responsible adults and stay informed. Watching documentaries such as Indoctrination also helps me as a Christian to pray for those who work in public education and for the students.
Should You Watch IndoctriNation
Clearly, IndoctriNation: Public Schools and the Decline of Christianity in America is not a pro-public education documentary.  This might cause some to not be interested in viewing it. However, I think it is beneficial to watch no matter how your children are educated. If your child is in public school, do you really know what is happening each day? What your child is being taught? Who is deciding what your child is learning? Do you want your child under someone else's authority every day, all day?
If you have made the choice to homeschool, this is valuable to watch so that you are made aware of what is happening in public schools. Perhaps you are deciding on how to handle high school? Or you think your child would do better academically in a classroom setting? Do you feel, as a Christian, that your child should be a missionary to her class? Watching IndoctriNation may not give you the answer but will hopefully help you ask questions to be better informed when making a decision.
Final Thoughts
I do enjoy a good documentary. IndoctriNation presented a look into the public educational system that I found thought provoking. I had planned to watch it in segments but once I began watching it, I could not find a good stopping point. I had to watch it to the end. I think it is wise for all parents to look at how their child is being educated and be truly informed. IndoctriNation could aid in that process.