The Picture Book Basket is a happening place this month! The little ones (and the not so little ones) are always happy to cuddle up and enjoy a book or two. It is definitely hard to go wrong with picture books about dogs or cats, right?
Tiptop Cat (C. Roger Mader) begins, "Of all the gifts she got that day, the best one was the cat." Whether you are a cat lover or not, you will enjoy this simple but exciting tale of Tiptop Cat. The simple text tells the story of Tiptop exploring his new home which happens to be an apartment in Paris. He enjoys his view from "on top of the world". Cats are a bit territorial, yes? When a pigeon comes to share Tiptop's balcony, he quickly discovers that while he can pounce, he can not fly. Thankfully he is not injured in his fall but Tiptop is no longer on top of the world. He is scared. Well, until a crow shows up and Tiptop's spirit is found again.
This simple story was a fun read. Mr. Mader does a wonderful job of capturing the personality of Tiptop. The illustrations are perfect; from comic strip style illustrations to full two page pictures. My little ones loved the expressions on Tiptop's face and others as the cat was falling from the balcony. My favorite was the final scene: sunset from the rooftop with the Eiffel Tower in view.
Smick! (Doreen Cronin)  is perfect for your little ones. My three year old enjoyed this the most, I think. I grabbed it off the shelf so that my newest reader could read aloud to my three year old. It is a great confidence builder when you get to read to your younger siblings.This was short enough that it wasn't overwhelming.
Smick is a doggie. He is a good doggie. Smick is great at fetching his stick. Then Smick makes friends with a colorful chick. The rhyming text and simple illustrations blend perfectly together to make this adorable book. Whether you need a book for your little one or want a simple book for a new reader, check out Smick. I think you will like him. I do. I just read it again for myself. I do love picture books!
This Book Just Ate My Dog (Richard Byrne) is a must read if you enjoy "interactive" picture books. Bella just wanted to take her dog for a little stroll. Then it happened. Bella's dog disappeared…the book ate her dog! Bella needed help. But when help arrived, gasp, the book ate them, too. How will Bella get her doggie back? She takes matters into her own hands. And disappears. Thankfully, Bella sends back a note for the Reader. Now saving Bella, her dog, and those who tried to help is up to the Reader.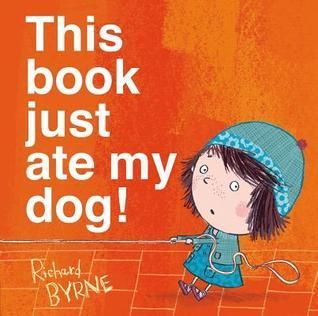 The idea for this was fabulous. The gutter of the book "eating" what walks across it. I can't even count how many times we read this book. My kiddos found it so funny and who doesn't love helping with the story? I imagine your kiddos would enjoy it as well so check it out!
Have you read any good animal picture books lately? I'd love to add them to our reading list!