For April, I wanted to be prepared when it came to my Newbery Challenge reads. In previous months, I ended up waiting and waiting for books from the library and having little time to actual read before the month was over. So instead of requesting one or two books, I requested several and then sat back and waited to see which would hit my hold shelf first. Naturally, instead of dwindling in like normal, four or five books arrived all the same day. The plans of man and all that, right?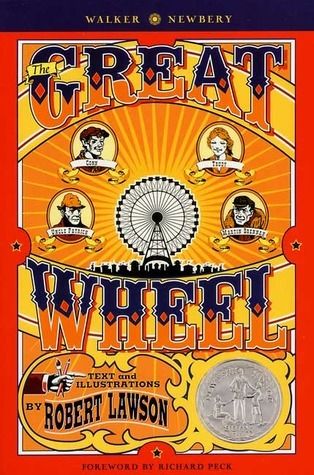 One of those books was The Great Wheel by Robert Lawson. Mr. Lawson is not only an author but well-known as an illustrator.  Why not learn a bit about the Great Wheel? I had hopes that it would be a worthy, interesting read to pass along to my children.
The story of The Great Wheel built by Mr. Ferris is told from the perspective of Conn Kilroy. Kilroy is an Irish immigrant who joins his uncle at the 1893 World's Columbian Exposition to help build the first Ferris Wheel. Alongside Kilroy we learn of the opposition and disbelief that this great wheel is feasible, reliable, or possible. We see the Wheel's formation from the deep foundation to the attachment of the Pullman cars.
There are really two stories walking together in this book. We have Conn Kilroy's story of making a life for himself in America and helping build the Ferris Wheel helps him to do that. The other story, of the building of the wheel, is woven into Kilroy's story. Of the two, I found the building of the Ferris Wheel the most interesting. When you think of the size of this first Ferris Wheel and the amount of labor and knowledge it required, it is simply amazing. The strength, work ethic, character, skill of so many men coming together from various backgrounds, all working together for a common goal is a beautiful picture of America's past.
The Great Wheel is one that I will be passing along to my children.  I appreciate the method that Mr. Lawson used to tell the story of The Great Wheel. While the book is not one of page turning excitement, is shares a worthy glimpse into our history.