I often hear of a book or read a review and I think, "I really need to read that book" or "Hmm, that sounds interesting". For various reasons I fail to add the book to my to read list or forget about it. This is what happened with Unbroken: A World War II Story of Survival, Resilience, and Redemption by Laura Hillenbrand. I remember seeing it mentioned somewhere and thinking it would be a good read. Then I never read it.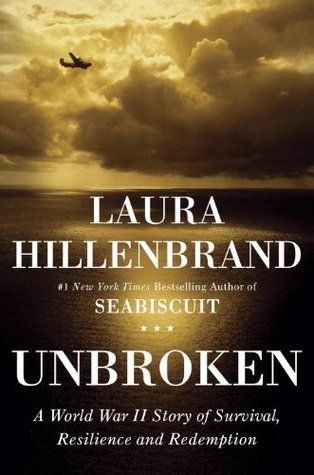 Now a movie has been made and we are preparing to view this production. Being the book lover that I am, I could not watch the film without reading the book Unbroken first. All too often the movie is not capable of capturing the essence, the emotions, the atmosphere of a story. So I read….
Unbroken tells the story of Louis Zamperini. We learn about his very active and adventurous childhood, his journey to the Olympics, and then his trying experience during World War II. Louis served as a bombardier on a B-24 plane and survived a crash with two other men. After an amazing  time of forty-seven days in a raft in the middle of the Pacific Ocean, two will reach land. At this point, Louis faces one of the hardest times of his life: life in a POW camp.
"Such beauty, he thought, was too perfect to have come about by mere chance. That day in the center of the Pacific was, to him, a gift crafted deliberately, compassionately, for him and Phil. Joyful and grateful in the midst of slow dying, the two men bathed in that day until sunset brought is, and their time in the doldrums, to an end."
I have hesitated sharing my thoughts on this book. It is one of those times where I have many thoughts and emotions. So often when we read about World War II the focus is on Germany, Hitler, the Holocaust. The story of Louis Zamperini takes us to face the Japanese side of this war. I appreciated learning more about this aspect of WWII.
"Dignity is as essential to human life as water, food, and oxygen. The stubborn retention of it, even in the face of extreme physical hardship, can hold a man's soul in his body long past the point at which the body should have surrendered it."
Unbroken is not an easy read. The horrors that are experienced by Louis and the other soldiers is overwhelming at times. To see how human beings treat one another and for it to be acceptable makes me speechless. How much more can a man take? How much longer can he stand? At what point does he give up? When does he lose himself?
"The paradox of vengefulness is that it makes men dependent upon those who have harmed them, believing that their release from pain will come only when their tormentors suffer."
It was unbelievable at times to see what these men had come through. Again and again seeing the strength, endurance, perseverance, determination, and friendship push against the cruelty and inhumane treatment. These soldiers were not intent on just saving themselves but on helping their friends and companions.  I would love to share with you a beautiful moment from the book but in case you are like me and late in reading this, I don't want to spoil it for you. I will say that God's mercy and forgiveness are amazing and awesome.
If you have read Unbroken, I'd love to hear your thoughts.