All Alone was a 1954 Newbery Honor book that I had planned to read in April. However, it came to me via inter-library loan so it didn't arrive quite in time. The loan time is short for this little book so I put aside my other reading and read it quickly one evening.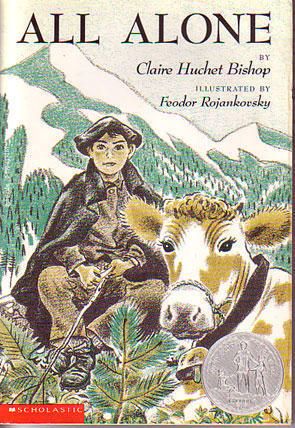 Yes, at only ninety-five pages with many black and white illustrations, the story presented a quick read. Despite it being an easy read, it contained a  story of hard choices, consequences, character, and friendship.
They were standing in the yard of a farm. The farm was in a valley closely surrounded by the high mountains of the French Alps of Savoie. It was an early morning in the latter part of May. The sun had just touched the peaks around them. The air was light and washed clean. The birds sang. In the farmyard the rooster crowed, the hens cackled, the pig grunted, the cat mewed, and the dog barked as he ran after her. Papa, who wore a walrus mustache, looked down at his ten-year-old son, so small next to the three heifers.
Marcel, a ten year old boy, lives in a peasant village in the French Alps. It is summer and time for the the cows to go up the mountain to graze on fresh, green grass. Now that Marcel is ten he is being entrusted with the family fortune: three heifers. Marcel will stay up the mountain all summer protecting the cows and returning them home safely at summer's end. Once a week, someone will bring Marcel food and water.
Yes, Marcel must do this alone. All alone. This peasant village is poor and over time a philosophy of "each man for himself" has become accepted. There is no helping your neighbor or being concerned with their well-being. Marcel is reminded to not be-friend any other boys that he may meet when watering the cows.
This mindset is soon challenged up in the loneliness of the mountain. Marcel and Pierre, another boy caring for his family's cows, soon yodel back and forth at the end of the day for a bit of companionship and to push away the loneliness.
One afternoon, Marcel is startled awake from a nap to discover that Pierre's cows have wandered into Marcel's grazing land. He knows that he should shoo the Pierre's cow away and tend to his own. Three cows are enough to manage on this mountaintop with steep drop offs all around. But what will happen to Pierre's cows? They will surely meet death if he just shoos them away. And what of Pierre? Did he fall asleep as Marcel did? Is Pierre hurt? Marcel finds that he can't abide by the "every man for himself" philosophy. He decided to take care of Pierre's cows because Pierre will come find them, of course.
The events that unfold after this cause Marcel and Pierre to be stranded up the mountain together. Marcel knows he will face the punishment of his father for disobeying and putting the family fortune in danger. However, when Marcel and Pierre are faced with telling how they came to be stranded together, the response is not what was expected. This peasant town would be changed.
All Alone is a very simple story but it is that simplicity that makes it an engaging read. We are often faced with making difficult choices. Marcel had to choose between obeying his father and the "each man for himself" philosophy or helping out Pierre. Marcel could imagine himself losing his cows just as Pierre had done and Marcel makes the decision to extend help. Sometimes what is expected is not what is right. I think this simple book can provide a bit of discussion on doing what is right and not what man expects. As believers in Christ, we may face such challenges. What would we have done if we were Marcel? Was Marcel right to disobey his father?
I passed this along to my eleven year old daughter and she read it in an hour or two. She shared with me that she enjoyed the story of Marcel. I think it would make a lovely read aloud. It would also work well for independent reading perhaps from ages 8 and up. The length and illustrations makes this book excellent for those who are ready for chapter books but don't need to feel overwhelmed with a thick read.