Movie Nights are a favorite in our home. You can't go wrong with popcorn, a cold drink, comfy seats and a good movie with the family. However, it can be challenging to find movies that meet our family standards especially with a wide range of ages. We discovered FishFlix.com: Christian Movies to Inspire and Entertain and had the opportunity to review the film, Unbroken – 2 DVD Legacy of Faith Edition.
FishFlix is an online Christian movie store that offers a variety of films. From documentaries to the latest Christian releases, everyone can find something to enjoy.
The movie Unbroken shares a portion of the life of Louie Zamperini, an amazing story of dedication, perseverance, character, redemption, and grace. Unbroken shares various stages of Louie's life: wild and trouble-filled childhood, Olympic dreams in the 1936 Olympics, and serving as a bombardier aboard a B-24 in WWII. Life takes a terrifying turn for Louie when the Green Hornet (B-24) crashes during a rescue mission. Louie and two other crew members (Phil and Mac) were the only survivors. Louie and Phil survive 47 days on a raft in the middle of the Pacific Ocean until they are found by the Japanese. Louie spent two years in Japanese prisoner camps and was tortured brutally. The ending of WWII freed Louie from the prisoner camps and he returned home a hero.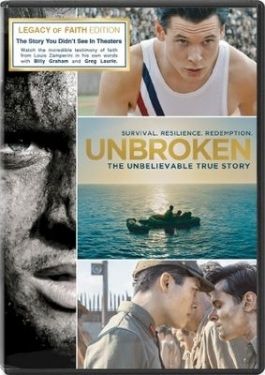 Unbroken has a brief scene of male nudity when Louie is first captured by the Japanese. FishFlix has blurred the male actors for more appropriate viewing for families. The content was not edited in any other way.
The Unbroken Legacy Faith Edition contains a second DVD that shares the rest of Louie's story through interviews with Louie. The film Unbroken ends when Louie returns home but there was so much more to Louie's story. Nightmares, alcohol, revenge, anger, and despair became Louie's world. Until one evening during a Billy Graham crusade, Louie realized that his life had been in the Lord's hands all those years and he was changed.
This second DVD (90 minutes)  contains interviews by Greg Laurie, CBN, and The Billy Graham Evangelical Association that have Louie sharing his story of faith and forgiveness. Angelina Jolie, director of the film, Unbroken, also shares about the impression Louie made on her.
Unbroken and Our Home
In preparation for viewing this film, I decided to read the book Unbroken: A World War II Story of Survival, Resilience, and Redemption by Laura Hillenbrand. This is a common practice in our home: book before movie. We had decided that only our older children (13 and up) would be viewing this film due to the mature theme. My daughters, 16 and 15, opted to view Unbroken later since they currently do not have time to read the book. My son (13) read the book and watched the movie along with my husband and myself.
Overall, I think Unbroken was well done. There were so many aspects of Louie's experience during the war to share that it had to be challenging to decide what to highlight. It is so very hard to translate emotions, experiences, and struggles from life to film. As Louie's generation passes away, it is so crucial to remember their lives and the impact they have on us. Movies such as Unbroken help us to remember.
I liked the movie. They did a good job of portraying the life in prison camp. They left out the important facts of his life after the war like his marriage and believing in Christ. I think you need to read the book and watch the movie so you get the full story and details.. Caleb – 13
After learning Louie's story, we were all eager to watch the interviews with Louie and hear him share of his experiences and faith. While we did enjoy hearing Louie speak, it was a bit disappointing. The three interviews provided presented basically the same information so viewing just one interview was all that was necessary. I wasn't impressed with certain interviewers and would have appreciated a bit of editing to have more focus on Louie.
I enjoyed the movie's depiction of Louie's life.. I appreciated the editing of nudity that Fishflix provided. While I enjoyed the interviews I think that editing would have benefited the flow of content and better shared Louie's story and faith. Eddie – 45
If you have not seen Unbroken, I would recommend this Legacy of Faith edition. I know you will walk away inspired by Louie.
Other Schoolhouse Reviewers reviewed Unbroken Legacy of Faith edition as well as other selections from FishFlix. If you enjoy a good movie, take a moment to see what others have to say.