Could someone please tell me what happened to May?  There must have been a few days that were missing because I didn't get to read as much as I had planned. Why does time go by so quickly?
Cottage in the Woods (Katherine Coville) is a re-telling of Goldilocks and the Three Bears. It takes this well-known fairy tale and gives it a sophisticated twist. Ursala, a young enchanted bear, comes to be governess for young Teddy Vaughn. What should have been a simple engagement for Ursala is soon full of excitement and danger. There is a thief that roams the house at night and Ursala soon encounters this little thief, Goldilocks. Who exactly is Goldilocks? Then tensions rise between the humans and the enchanted animals. Will peace reign?
There is a definite Jane Eyre feel to this book and fans of Bronte will surely pick up on those nuances. Other fairy tale/nursery rhyme characters are sprinkled throughout the book and add a bit of their story to the mix. And with any good fairy tale there must be a bit of love, yes? Coville does not let us down as Ursala must face losing the one she loves.
This was a perfect book to have by my bed to read at the end of the day. Enjoyable but not too heavy to keep me from sleep. While this is a re-telling of Goldilocks and the Three Bears, I would recommend this for older readers who enjoy authors such as Bronte. Upper middle school and up, perhaps? I think it really depends on the interest and maturity of the reader.
The Animal Family (Randall Jarrell) was a selection for my Newbery Through the Decades challenge. When I picked this book, I didn't really look beyond the title. As I first began to read it, I was not sure that it was going to be a good choice. Once I settled into the mood and tone of the story, it took a turn for the better. Jarrell was a poet and I think you see that coming through in this short children's story. I was expecting a bit more of an adventure/humor story and The Animal Family was not that at all. It is a simple tale of how a lone hunter comes to acquire a family beginning with a mermaid. Later a lynx, a bear, and a young boy are added to the family.  If I were to read it again, I would definitely make it a read aloud. I think sharing it with my children would have made this a much better read for me.
Jennifer, Hecate, MacBeth, William McKinley and Me, Elizabeth (E. L. Konigsburg) was another Newbery Through the Decades read. After reading The View from Saturday, I had to read another Konigsburg. I was a little concerned that I would be disappointed. While I didn't find it delightful, it was still a fun and simple book about friendship.
Sometimes it is hard finding a friend. It can be even harder to have a friend. Well, if that friend is a witch. Elizabeth, the story's narrator, tells of an unexpected friend, Jennifer, who is a witch. She quickly recruits Elizabeth as a witch in training. The story isn't about witches or becoming one. It is about finding friends; even friends who might be a little strange or quirky. I will likely pass this along to my 9 year old daughter as an afternoon read this summer.
All Alone (Carol Hutchet Bishop) was from early in the month and I shared about it here.
If my memory has not failed me, those are the only finished reads from May! I do, however, have a couple in progress:
Black Dove, White Raven (Elizabeth Wein) is going a bit slowly for me. I think it would help if I had a longer time to just sit and read it. I am having a hard time connecting with the story.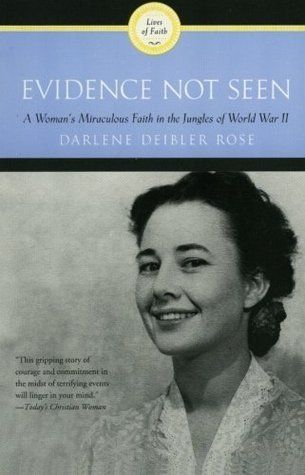 Evidence Not Seen: A Woman's Miraculous Faith in the Jungles of World War II (Darlene Deibler Rose) is on the top of my reading pile right now. I have it via inter-library loan so I have a limited time I can read it. If I could find an hour to read, this would be the book I would choose. I so want to read more.
I am not even going to look at the pile of books I have yet to touch. I can't start another book right now!
What have you been reading? I love adding books to my list!