I began researching homeschool curriculum options when my oldest (now sixteen) was enjoying chewing on a good board book. There have been some resources I have set to the side over the years and some that are like faithful friends on this journey. One of those faithful friends is Institute for Excellence in Writing. We have benefited from Fix It Grammar, Student Writing Intensive Level A and Level C. Our newest IEW product has been the Deluxe Combo Teacher/Student Writing Package Level B [Fix 3-4] with A Word Write Now and Portable Walls. This is a fabulous combination option if you have a child/children in Grades 6th – 8th.
Let's Break Down this Deluxe Combo:
If instructing your children in the area of writing is challenging for you then the Teaching Writing Structure & Style DVD Set is an excellent tool. This set includes 12 DVDs that walk you through outlining, sentence structure, developing essays, creating stories, and more. (Nine DVDs are instructional, three provide various student workshop samples.) This TWSS set is the newly updated 2015 edition. If you own the 2000 edition, you can learn about the updates and changes. I find TWSS so helpful for me as a teacher. Whether I am using an IEW Student Intensive or helping a child with written narrations, concepts and ideas from TWSS help me have confidence in guiding my writers. I find that not only do I learn how to teach and help my students, but I can apply the techniques and strategies to my own writing.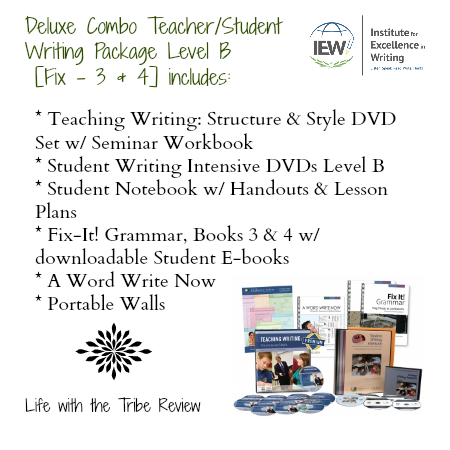 You might be thinking that watching this set of DVDs (fourteen hours of instruction) is overwhelming. While you can watch them all before beginning a writing intensive with your student, I prefer to break them down by unit. I view the portions dealing with Unit 1 to prepare myself to teach my student those skills. When we are almost ready to move to Unit 2, I watch the DVDs for that unit. This works really well since we function on a year round schedule. If you take a long break from school, you might find viewing them all together is manageable. Since the Seminar and Practicum Workbook is included you have a syllabus, charts, lesson plans, etc to use while viewing the DVDs and to have for future reference.
The Teaching Writing: Structure and Style DVD Seminar also includes a Premium Subscription to streaming video and other e-resources. The complete TWSS is available for video streaming. My personal favorite has been access to a variety of MP3s of Mr. Pudewa's conference talks. I enjoy listening to these in the evenings; my own personal homeschool conference.
The Student Writing Intensive DVDs Level B and the corresponding Student Notebook with Handouts and Lesson Plans is an excellent writing course. We have used Level A and Level C in the past. However, my son (13) had somehow slipped under the writing radar and I really wanted to help build his writing skills. SWI Level B seemed the perfect solution. He actually loves to write and has a couple of stories in progress. Unfortunately, when it comes to informative or essay style writing, the words do not flow as freely. Also the skill of being able to outline the points of a possible story and pull them together was sometimes challenging. Working through the clear, systematic approach of SWI Level B is working well.
Samples of each of the resources in the Deluxe Combo are available on the product pages of the individual items. Video excerpts are also available to view.

After quickly setting up the student notebook, Caleb has been using SWI Level B independently with me serving as an underpaid editor. Clearly laid out lesson plans, all handouts ready to go, and Mr. Pudewa's engaging presentations on the DVDs make building writing skills so very simple.  There is a recommended schedule included in the student notebook and it can take 15 – 30 weeks. All depending on your student's skill level, you can definitely adjust the pace.  Caleb is working at a steady pace but some weeks has chosen to double up on assignments.
"The writing course is really simple to use. It gives clear instructions and that is really nice. I like knowing what I have to do. I like being able to write in my own way. Mr. Pudewa isn't boring and is actually funny." Caleb ~ 13
Fix-It! Grammar is not a new resource on our shelves. I have a daughter currently working through Book One: The Nose Tree and she loves it. I was thrilled to see two books of Fix-It! as a part of the Deluxe Combo! With the Deluxe Combo Level B there are two options for Fix-It! You can select Books 1 and 2 or Books 3 and 4 depending on the level your child is working with grammar. How do you know which Fix-It! book is right for your student? IEW provides a Placement Test so you can select the correct starting point for your student. The Fix-It! books are designed for Grades 3 and up so there is flexibility with placement.
Caleb is working with Book 3: The Frog Prince, or Just Deserts. He has had previous exposure to grammar so this placement suits him well. Fix-It's process of having the student edit or correct segments from a story each day makes grammar practical and purposeful. Completing a re-write of the corrections help to solidify what is being learned. We have tweaked Fix-It! a bit. Instead of handwriting the re-writes at the end of the week, Caleb types them. (He also types up the final draft for the SWI assignments.) Each week of Fix-It! includes four vocabulary words. Since Caleb has a strong vocabulary, we generally just discuss the words while going over the lesson. This is working well for us.
The Fix-It! Grammar books with the Deluxe Combo Level B are Teacher Books. With the teacher books you are given access to Student E-books to download for the corresponding levels. This is a great option if you have more than one student who will be using the course. If you prefer a pre-printed Student Book, they are available for purchase separately.
Teaching Writing: Structure and Style, Student Writing Intensive Level B, and Fix-It Grammar together make for an amazing resource. IEW added in a couple more resources to help your student write successfully.
A Word Write Now is a sturdy, colorful thesaurus that serves as a reference resource when your student can't find just the right word. Broken into various themes, this  thesaurus is very easy to use and not overwhelming. It even allows your student to add their own words as well. I encourage my children to make use of the dictionary and other similar resources so I appreciate having an easy to use thesaurus on hand. Caleb has not needed it at this point but my nine and eleven year old daughters will likely utilize it when writing.
The final item in the Deluxe Combo is the Portable Walls. Portable Walls? It is simply a sturdy, laminated tri-folded folder that serves as a quick reference guide for students. The information is broken into clearly defined sections that allow you to quickly find what you are looking for. Need a strong verb? Forgotten the Basic Essay Model? No problem! This quick reference works great to avoid those blocks that happen when we write. Caleb keeps his with his SWI Binder so it is always close at hand. The simplest of tools can be so helpful!
My Final Thoughts..
Overall, I think IEW has put together an excellent package with the Deluxe Combo Teacher/Student Writing Package Level B. As the parent/teacher, I really need the Teaching Writing: Structure and Style to help me guide my students. But as a mom of nine, I don't have hours and hours to devote to learning a writing strategy. The TWSS design allows me to learn and implement a writing program that doesn't require me to drop everything else. Mr. Pudewa has a gift in being able to present information in a manner that is engaging, entertaining, and understandable. He is a teacher, a homeschool dad, and a former student who hated to write. These life experiences have truly equipped him to help others in this area.
The Student Writing Intensives and Fix-It Grammar resources work beautifully with students of varying abilities and skill levels. These programs provide excellent instruction and guidance while allowing for individual flexibility. In our home, this makes IEW a favorite.
If you have any questions about which level or product you need, IEW has amazing customer service. They are happy to answer any questions and have been so helpful to me in selecting the appropriate resources. Don't forget to check out other Crew Reviews!