Fleck straightened and stretched his arm. Pain flared. Unbearable agony. He bent, wincing. He opened his eyes and saw King Whitson, fighting desperately to protect Prince Lander. Fleck rose, ignoring the pain, and shouted across the water.

"My place beside you, my blood for yours!

Till the Green Ember rises, or the end of the world!"

The Green Ember – Prologue
A few months ago, I shared with my children the story The Green Ember. The above quote is taken from the prologue. As I read the final pages of The Green Ember, there was much conversation about when the next book would be available and what did everyone think would happen with Picket, Heather, Smalls, Emma, and all the other rabbits. The prologue intrigued us as well. Who was Fleck? What happened after he went to fight beside Whitson Mariner? Did Prince Lander survive?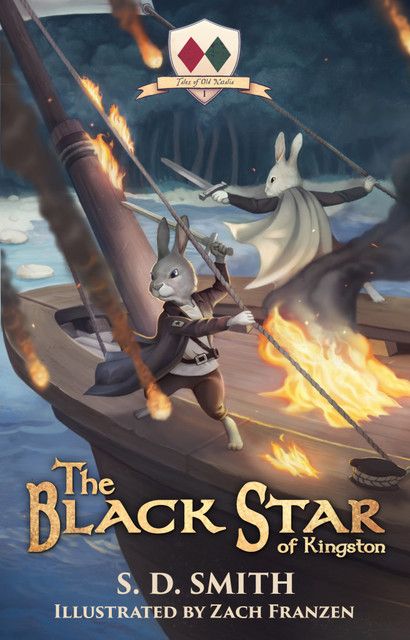 Thankfully S. D. Smith, did not make us wait long! A first in the Tales of Old Natalia, The Black Star of Kingston takes us back to a century before Heather and Picket's adventures and gives us the story of the oath.
On the shores of Natalia, The Black Star of Kingston comes to stand by King Whitson. King Whitson is creating a safe haven for the community of rabbits after the invasion on the Golden Coast. As tensions rise within this community, Seddleton, we see Fleck take a place of loyalty with the king.
Fleck was a simple coal miner on the Golden Coast . With a strong character, unwavering loyalty, and full-hearted devotion, he becomes the Black Star of Kingston. Black Star is committed to protecting King Whitson and Prince Lander at all costs.
Once again Smith brings us a tale of daring, adventure, courage, sacrifice and forgiveness with engaging characters and intense battles. We see the struggle that is within us all: When the battle comes, do we fight? Do we run? Do we stand firm on what we believe? Does fear make our belief waver?
Black Star of Kingston, like The Green Ember, is one that I highly recommend. Black Star is a perfect read aloud as all ages will enjoy it. We have a wide range of ages in our home and everyone was asking for more.  I love sharing stories such as this with my children. While we enjoy the page-turning action, the conversations we share after reading are priceless. They are already eagerly awaiting the next adventure…..
Black Star of Kingston is available for pre-order and will be available July 13th. Just enough time to enjoy The Green Ember if you haven't read it yet.